The 4 Must-Have Cleaning Tools and Products Landlords Swear By
We independently select these products—if you buy from one of our links, we may earn a commission. All prices were accurate at the time of publishing.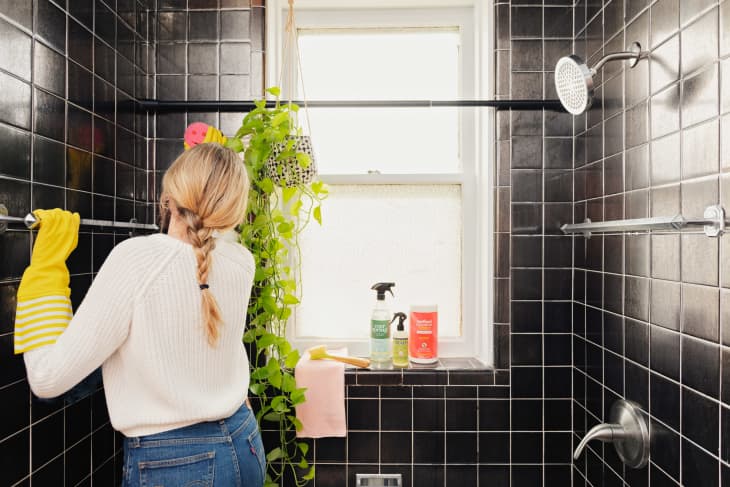 When you move into a new rental, there's a reasonable expectation that your apartment will start out as a literal clean slate (because the thought of sitting on a dirty toilet seat from the previous tenant isn't exactly home-y). And it's in your landlord's best interest to present you with a sparkling clean unit—not only is it their legal responsibility to make sure the place is habitable, but the cleaner the apartment is starting out, the more likely it is that the tenant will keep it that way throughout the lease. 
Although many landlords use cleaning companies to get the unit spotless before renters move in, there are some out there who roll up their sleeves and tackle it themselves. Because their time is limited and there's a tight turnaround between tenants moving in and out, we asked a few landlords which tools and products they always have on hand to get things sparkling clean.
Here are four things they swear by—consider this a reason to update your cleaning supply cabinet ASAP. 
Deep cleaning a rental before a new tenant moves in usually means a lot of scrubbing, especially in the kitchen and bathroom. The drillbrush cleaner gives you high powered scrubbing with half the effort, says Brian Davis, a landlord and co-founder of SparkRental.com. 
"They're exactly what they sound like: brushes with a drill bit, so you can fix them onto your drill to scrub hard without giving yourself tennis elbow. They work especially well on showers and tubs and other bathroom tiles," says Davis. "Combine with a potent bathroom cleaner and maybe a little bleach for maximum effect."
We've sung the praises of the Magic Eraser many times on this site, but it's worth repeating: The Mr. Clean Magic Eraser is actually magic when it comes to removing stains and scrubbing away stubborn soap scum, and it's routinely used by busy landlords who have to turn over a property quickly and for as little money as possible. 
"They work on everything, from tubs to tiles to kitchens, but they especially excel at cleaning smudges at scuffs from walls, which, as a landlord, can save you a lot of money on repainting," says Davis.
Method Foam Bathroom Cleaner
There are a lot of bathroom cleaners out there that include harsh and sometimes even toxic ingredients. When cleaning the bathroom in between tenants, Megan Hornsby, a realtor and landlord in Toledo, Ohio, who manages 30 properties, relies on Method's Foam Bathroom Cleaner.
"It's effective without being toxic and doesn't smell harsh," she says. "First, I clean and then I use a grout pen."
Scrubbing Bubbles Bathroom Grime Fighter Spray
A lot of soap scum and dirt can build up in the bathroom over a year-long lease. To eliminate it, Rob Fountain, a landlord and realtor for Keller Williams in Colorado Springs, Colorado, recommends Scrubbing Bubbles Grime Fighter Spray.
"As you see it begin to work, at first you think, 'Have I really been living in this?' It 'peels' away all of the grime and inferior cleaning products and leaves a shiny, like-new look to counter tops, showers, toilets and even tile or linoleum floors," says Fountain. 

Buy: Scrubbing Bubbles Bathroom Grime Fighter, $3.59