What's Cheaper — Using a Laundry Service or Having an In-Unit Washer and Dryer?
We independently select these products—if you buy from one of our links, we may earn a commission. All prices were accurate at the time of publishing.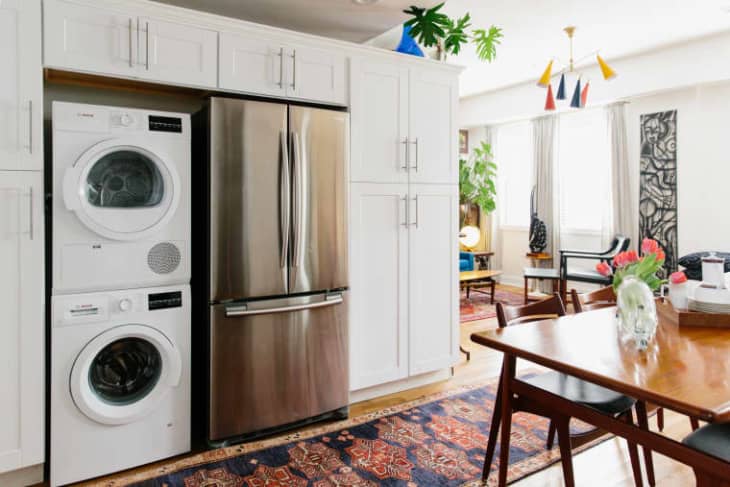 If you've tried to buy or rent an apartment in a big city, chances are you've bemoaned the fact that many are not equipped with washers and dryers. Meanwhile, those who do have this rare and coveted amenity seem to pay an arm and a leg. 
Follow Topics for more like this
Follow for more stories like this
What should you do? Option one would be to spend more on rent or a mortgage to enjoy this luxury. And option two would be to get a cheaper place to live, and either do your laundry at a laundromat or use a laundry service. It's a tough, tough decision.
"Many of my clients find themselves at the crossroads of this conundrum during their home search," says real estate broker David Eisenberg.
Unfortunately, there's no hard-and-fast rule for how to make this choice, nor is there a reliable formula for figuring out which option is actually cheaper in the long run. In the end, it all comes down to where you live, your lifestyle, and your priorities. 
But first, know that you're not alone. In-unit laundry is the second-most popular filter among renters searching on Zillow.com, trailing only behind "pets allowed," according to February 2023 data from the real estate marketplace. In short, people love the convenience of being able to do their laundry at home almost as much as they love their dogs and cats — now that's a serious commitment to clean clothes.
As you likely already guessed, whether or not a unit has a washer and dryer inside varies wildly depending on what part of the country you're searching in. Across the nation, though, rental units are fairly evenly split on this amenity: 43 percent have in-unit laundry, compared to 57 percent that don't, according to Zillow's data.
Las Vegas is the best metropolitan area to live in if you want to up your chances of finding a place with in-unit laundry, as a whopping 74 percent of rentals listed on Zillow in February had washers and dryers. Seventy percent of units in Washington, D.C. had them, giving it second place in this standing, and 67 percent in Austin, Texas, had in-unit laundry for third.
"In-unit laundry is considered the holy-grail amenity to a lot of renters," says Emily McDonald, a Zillow rental trends expert. "Lugging dirty clothes through an apartment building to the shared laundry room or a nearby laundromat probably isn't anyone's dream scenario."
In-Unit Laundry vs. Using a Laundry Service
There are several different factors when considering in-unit laundry versus using a laundry service, but the big two are cost and convenience. 
With in-unit laundry, you'll likely pay a higher monthly rent. Plus, depending on how your lease is structured, you may also be on the hook for laundry-related utilities like water, electricity, and gas. On top of that, there are the ongoing costs of laundry detergent, stain remover spray, dryer sheets, and other helpful tools and gadgets. You'll also want to get straight with your landlord about who is responsible for the maintenance and upkeep costs of the machines themselves.
But having a washer and dryer inside your apartment can also be ultra-convenient. It means you can do your laundry whenever you want, at any time, day or night. You don't have to do much planning ahead of time, other than making sure you have enough laundry detergent on hand. This is great if you work odd hours, you're a night owl, or for those random moments when you realize you need a particular item of clothing to be spotless on short notice. It's also handy if you have little ones — whether human or animal — as they tend to be messy.
"As a father myself, being able to throw a dirty outfit or bed sheets in the wash at a moment's notice is incredibly helpful," says Eisenberg.
If you own the apartment, having an in-unit setup is also "very positive" for resale value, says real estate broker Mihal Gartenberg.
On the flip side, however, having a washer and dryer inside your apartment also assumes that you don't mind doing laundry and, perhaps more importantly, that you actually have time to do it. Your time should also factor into the cost equation because, as the old adage goes, time is money.
With a laundry service, you may need to give your dirty clothes a little more forethought in terms of timing, but once you drop them off or schedule a pickup, that's pretty much it. Your work is done. Someone else does the time-consuming spot-treating, washing, drying, ironing, and folding for you. 
"This can be a major time-saver," says Eisenberg. "They are professionals at washing clothes. They will likely wash and fold your clothes better than you can."
Depending on how much laundry you produce, the cost of using a service shouldn't be astronomical — but it can definitely add up over time.
"The laundry service market is very competitive, with the average price at around $1.50 per pound," says real estate agent Josh Tepper. "Other services have flat monthly membership fees. The variations are endless in New York City; essentially, the formula boils down to cost versus the time required to do your own laundry. And of course, this is client-dependent."
One downside to using a laundry service is that there's always a possibility your favorite T-shirt will get lost, damaged, or will shrink somewhere along the way, says real estate broker Gerard Splendore. (Of course, you might also ruin your own clothes while doing laundry yourself!) On top of that, you might not always have your clothes exactly when you need them — the weather, holidays, and busy seasons could delay delivery or pickup, he says.
There are other options. You can take your clothes to a laundromat; although if you value convenience, this is likely the most time-intensive of all the options. You could also search for an apartment with a communal washing area somewhere in the building. This can be almost as handy as in-unit laundry, however, you'll need to be around to switch out or grab your clothes, and you may need to remember to have quarters on hand. 
On the plus side, a communal laundry room is also a great place to chat up the other people in your building, says Splendore. Laundry room party, anyone?
"It is always social and the best way to meet and keep in touch with one's neighbors and the building's goings-on," he says. "It is hard to put a price on that social interaction."