Lauren & Kevin's Urban Jungle Oasis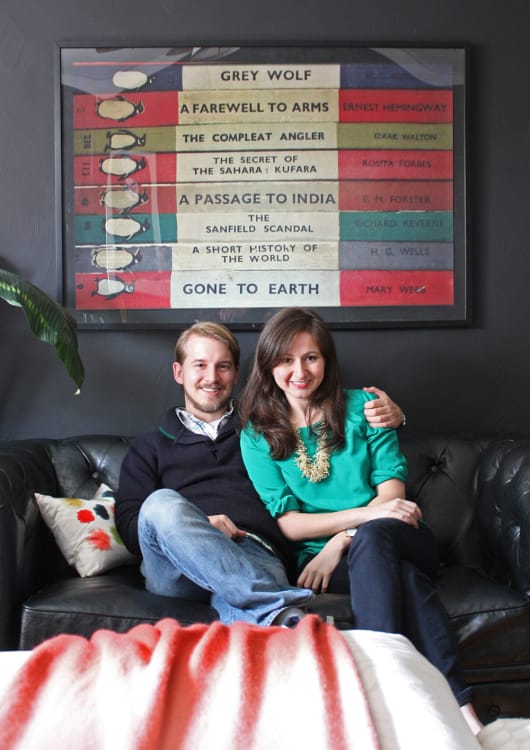 Name: Lauren and Kevin
Location: Lincoln Park, Chicago, Illinois
Size: One bedroom
Years lived in: 3 1/2 years (2 1/2 together); rented
Stepping into Lauren and Kevin's apartment, you would never know that it was blustery outside and that winter had already cast its gray-white pallor across the world. Vibrant colors and a panoply of fanciful objects give the space a warm and inviting feeling, and their home, so full of pattern and life, makes it seem as if winter were a thousand miles away.
While one might call their home eclectic, vintage-inspired, or collected, I think the term that best sums up Lauren and Kevin's style is "unafraid." Salmon walls? A black bedroom? A horse head in the kitchen? These things may have given other decorators pause, but for Lauren and Kevin, the question was, "Why not?" — and the results speak volumes. What they've created is a home that shows precisely who they are and what they love. The walls are peppered with meaningful objects and homages to the movies, books, and art that have shaped them, and for every touch of Lauren, there's an equal dose of Kevin; her love of Godard and animals comes together neatly with his affection for Batman and Shakespeare. While they've had plenty of design inspiration from other sources, their apartment is much more than an amalgamation of other people's ideas.
What with the zebra-print accents, lush, large-scale plants, and variety of fauna, one begins to understand the aptness of the jungle analogy, and upon consideration, it even functions on a deeper level. A jungle is filled with wonders from the grand to the small, inviting continual exploration and discovery. It's the same with Lauren and Kevin's home, where there is a frequent negotiation between large-scale moments and teensy treasures, all of which which constantly invite you to look, engage, and ultimately, get to know them better.
Apartment Therapy Survey:
Our Style: Eclectic.
Inspiration: Museums, antique stores, other people's homes, store/brand aesthetics (everything from Ralph Lauren to Kate Spade).
Favorite Element: The sunlight and tall ceilings.
Biggest Challenge: Our walls are old and paint-saturated, and they have the cracks to show for it. The kitchen cabinetry leaves a lot to be desired, and we could do with a hallway closet.
What Friends Say: "Can't wait to see 'Lauren & Kevin's Urban Jungle Oasis' on Apartment Therapy!"— an email from our friend Jean after we told her we were doing a tour. Now you can't use that title. ☺ (Writer's note: We'll see about that....Thanks, Jean!)
Biggest Embarrassment: I still feel the need to apologize for our apartment and explain away half-finished projects when guests come over. It's a bad habit and a difficult one to break. I'm working on being proud of what we have done rather than focusing solely on those things we've yet to do.
Proudest DIY: I'm a big fan of the painted & reupholstered Chippendale chairs in the living room.
Biggest Indulgence: Our biggest indulgence is probably our collection of small indulgences; we are both big book lovers and are constantly tempted by new titles to add to our shelves.
Best Advice: Neither of us are designers, so our place is the result of a lot of trial and error. Don't be afraid to change direction if something in a room doesn't feel right after living with it for a while. That's what Craigslist is for!
Dream Sources: Estate sales and antique stores — without having to look at price tags — and Chicago shops like Jayson and Brimfield. Also, I would love to get my hands on bedding from Leontine Linens. I'm a sucker for fancy monograms.
Resources of Note:
ENTRY
• Octagon mirror: Brownstone Antiques
• Lamp: HomeGoods base with shade recovered with an Otomi print
• Bust: taken from Lauren's childhood home
• Abstract print: Luli Sanchez for West Elm
LIVING ROOM/ DINING ROOM
• Accent wall paint color: Salmon by Ralph Lauren
• Dining table: cb2
• Chairs: Orbit chairs from cb2
• Art wall: mixed sources. Sunburst taken from Lauren's childhood home, peacock from Lincoln Antique Mall, horse head from Roost, Kissing Checklist print by Rachel E. Foster for The Calm Gallery
• Faux wood blinds: Ikea
• Pelmet boxes: made with foam core board, batting, Lewis & Sharon suzani print fabric, and lots of staples
• Chippendale chairs: Salvation Army, painted black and reupholstered in the same suzani fabric
• Silver tray table: Target
• Carpet: Ikea
• Coffee table: Lincoln Antique Mall
• Gold coffee table tray: Threshold for Target
• Couch: Corona from Macy's
• Throw pillows: Target
• Lauren's desk and chair: Target mirrored console and Salvation Army, respectively
• Kevin's desk and chair: Ikea Malm console and an alley find dragged in by a friend, respectively
• Lamp: Arc Lamp from cb2 (which we are looking to replace)
• Billy Bookshelves: Ikea, with one extender on each. We painted the backs with the RL Salmon paint
• Giselle artwork: Million Dollar Rejects
• Horns: eBay
• It Always Seems Impossible print: The Love Shop on Etsy
KITCHEN
• Rug: Ballard
• Horse head: A weird ceramics warehouse sale; we painted it black
• Sideboard: dresser from Brown Elephant painted in Alligator Skin by Behr
• Birth of Venus print: White Elephant
•Book shadowbox: books from the Penguin Great Foods series & an Ikea frame
BEDROOM
• Paint color: Francesca by Martha Stewart
• Linen curtains: West Elm
• Matchstick Shade: Home Depot
• York headboard: Pottery Barn
• Billy Bookshelves: Ikea (with two extenders added to each one)
• Bedding: Zebra coverlet from Ballard Designs; throw from West Elm; throw pillows from Etsy shop DivanCushu
• Side tables: antiques from Lauren's childhood bedroom
• Gold task lamps: Wayfair
• Bed bench: Brownstone Antiques
• Dresser: Brown Elephant (if anyone has hardware suggestions to replace the missing pulls on the left side, let us know!)
• Branch Lamp: Nate Berkus for Target
• Clear console: Crate & Barrel Vista, found on Craigslist
• Horn Lamp: Source for West Elm
• Chesterfield loveseat: Home Decorators
• Art: photo of Penguin books blown up at Kinko's; Laurencin: Women, 1920 by Marie Laurencin; Igor Stravinsky: Metropolitan Opera by David Hockney
Thanks, Lauren & Kevin!
(Images: Carolyn Purnell)
• HOUSE TOUR ARCHIVE: Check out past house tours here.
• Interested in sharing your home with Apartment Therapy? Contact the editors through our House Tour Submission Form.
• Are you a designer/architect/decorator interested in sharing a residential project with Apartment Therapy readers? Contact the editors through our Professional Submission Form.
*Re-edited from a post originally published on 12.18.12 - AB