Two Texas Transplants in a Cozy Colorado Southwest-Bohemian Home
We
independently
select these products—if you buy from one of our links, we may earn a commission. All prices were accurate at the time of publishing.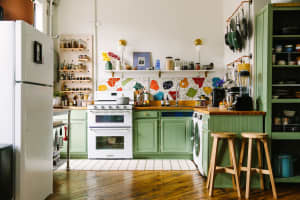 Can't-Miss House Tours Straight to Your Inbox
Keep up with our latest house tours each weekday with our House Tour of the Day newsletter
Name: Stiles and Lauren Christner
Location: Englewood, Colorado
Size: 624 Square Feet
Years Lived In: 2
Texas born and bred, Lauren and Stiles embody the small town warmth and southern spunk so often found in the Lone Star state. Lucky for us, the same can be said about their beautiful starter home in Denver, Colorado. Stepping through the threshold of this home, one might initially find it hard to determine the age of its residents. Vintage inspired decor sits among beautiful heirloom pieces (passed down for generations) and will have you guessing whether the decorator is an urbanized Texas hipster or an established southern homesteader.
This perfected showcase of old and new can only be attributed to the incredible style of Lauren Christner, professional thrifter, self proclaimed vintage furniture hoarder, and owner of online clothing store Pheonix Moon Vintage. "We have always loved old stuff and have been collecting things for many years. We dream of traveling, the open road, and being out on adventures. We are constantly finding cool things, but we're running out of room to keep it all to ourselves." Lauren says.
With the front space staged as a large community dining room instead of a typical living room, and a bedroom re-purposed as a large vintage closet, this home is nothing short of inspiring. Take a peek! But if you do, beware! You just might have the urge to replace that sofa and entertainment center with a large farm table and set of thrifted, mis-matched chairs.
Apartment Therapy Survey:

Our Style: Southwestern Bohemian.
Inspiration: We are from Texas, so we naturally love all things Southwestern. We also are drawn in by the free, bohemian spirit of the 60's and 70's, with eclectic pieces and touches of nature.
Favorite Element: The clean white walls and contrasting dark wood floors. Oh, and also all of the plants!
Biggest Challenge: I would say our biggest challenge has been remodeling while living in the home. When we bought the house we had intentions of changing pretty much everything about it over time. It is so much fun getting to change whatever you want in your home, but it can be a challenge living amongst lots of unfinished projects!

What Friends Say: When people come into our home they always comment on how calming and cozy it is. That is exactly what we wanted to achieve with our home — an inviting place for friends to relax and laugh in all day long.

Biggest Embarrassment: The electric in our home is very, very old. Like 1 plug per room old (if we are lucky) . So this leads to lots of random hanging extension cords all over the place! It is definitely one aspect of our home that we are embarrassed of and plan to get fixed soon.

Proudest DIY: We have very limited closet space in our home, so we have to be extremely creative with storage. We discovered that the storage of our everyday items (clothes, dishes and food) can be a beautiful part of our home décor. So, my brilliant husband just hung up a rod by some twine in my workroom and tah-dah, all of my vintage clothing for Etsy had found a home without cluttering up the whole space. We also are proud of the shelf above the stove. It was a shelf from an old jelly cabinet that has been in my family for years. We simply cut the shelf out, screwed it into some metal brackets and hung it up on the wall for extra kitchen storage.

Biggest Indulgence: We don't really have anything that we would consider an indulgence in our home. Most everything was free or collected at thrift stores and estate sales. I would say that our biggest indulgence though (on our thrifty budget and in our thrifty mindset) would be all of our animal skins, pelts and rugs. We can't pass up a good sheepskin or an amazing vintage kilim rug!
Best Advice: Don't go 'by the book' or by what is on trend. Put what you want in your home! After all, you are the one who has to live in it! Also, go to thrift stores often. We have found so many wonderful one-of-a-kind treasures that are irreplaceable and could never have been found at a store new. It is so rewarding to have a 'collected' home!
Dream Sources: For Ideas: Pinterest (I am a MAJOR Pinterest addict) Instagram, and various interior blogs. For Décor: Thrift stores, estate sales (my heart just races at the sight of a little 'estate sale this way' sign!), garage sales, the side of the road, flea markets, grandma's attic, and nature.
House Walls: Glidden Eggshell White
House Flooring: Minwax Dark Walnut
Kitchen Cabinets: Glidden Pumpernickel
Front Door: Home Depot
Rug: World Market
Table: Estate Sale

Mismatched chairs: Collected over time at thrift stores
Jelly Cabinet: Family Heirloom
Large wooden shelf: Free
Rug under table: Thrift Store in Austin, Texas
Baby Peacock Chair: Goodwill Bar Stool: Family member in Austin, Texas Various Plants and Cacti: Home Depot KITCHEN


Rugs: Arc Thrift Store; Goodwill
Shelf Above Stove: DIY



Dresser: Family member in Austin, Texas
Sheepskin: Estate Sale in Denver, Colorado
Side tables: Family heirloom and thrifted sewing machine table
Lamps: Thrifted
Seashell Chandelier: DAV thrift in Lakewood, Colorado.
Various Baskets: Thrifted
Mirror: World Market
Wooden bucket: Thrift Store in Austin, Texas
Bathmat: Target
Shower Curtain: Target
Red Table: Family Heirloom
Peacock Chair: Garage Sale in Columbine, Colorado
Sheepskins: Thrifted and estate sales
Navajo Rug: Thrifted and by Pottery Barn
Large Midcentury Lamp: Estate Sale in Englewood, Colorado
Round Mirror: Estate Sale in Denver, Colorado
Hanging Clothes Rack: DIY- supplies from ACE Hardware
Red Table: Family Heirloom
Peacock Chair: Garage Sale in Columbine, Colorado
Sheepskins: Thrifted and estate sales
Navajo Rug: Thrifted and by Pottery Barn
Large Midcentury Lamp: Estate Sale in Englewood, Colorado
Round Mirror: Estate Sale in Denver, Colorado
Hanging Clothes Rack: DIY- supplies from ACE Hardware
Front Porch: Rolling Table and Sliding Vintage Chairs: Garage Sales
Hanging Pendant in back hallway: Habitat for humanity ReStore
Various hanging baskets and pots: All thrifted
Mounted Deer: Shot by Stiles in West Texas!
• HOUSE TOUR ARCHIVE: Check out past house tours here.
• Interested in sharing your home with Apartment Therapy? Contact the editors through our House Tour Submission Form.
• Are you a designer/architect/decorator interested in sharing a residential project with Apartment Therapy readers? Contact the editors through our Professional Submission Form.