Lauren's Dark & Dramatic Design
We independently select these products—if you buy from one of our links, we may earn a commission. All prices were accurate at the time of publishing.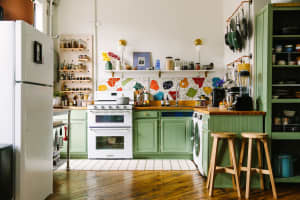 Can't-Miss House Tours Straight to Your Inbox
Keep up with our latest house tours each weekday with our House Tour of the Day newsletter
Name: Lauren Diane Svenstrup
Location: Andersonville, Chicago, Illinois
This apartment is in a vintage courtyard building and is around 700 square feet. I have lived here almost two years. As an interior designer, my space is an ever-changing canvas. Just when I think I am done, I find another project. Deep down at the core, I have an affinity for vintage finds. I love the hunt, I love the history. Up until this past year, I would say about 90% of my furniture was either inherited or found. The first piece of furniture I "invested" in was my sofa, right out of college. It was a $50 craigslist find, I saved up and sent it to the upholsterer and with a coat of paint and some stormy blue velvet… I was in the big leagues, sort of!
I have a love for vintage and bright bold colors. Mixing the old with the new. Somewhere along the road I referred to my style as "grandma chic." It is something I came to regret in my social circle; I don't know that I will ever live it down. A few years ago I made a big career change and jumped from a more commercial setting were I was designing model homes, to a high-end residential design firm in Chicago as Design Director.
All of a sudden I was in this world of high-end residential design and I was saturated with new products and ideas on a daily basis…there were too many to choose from! After a year working at that firm, I decided on a whim that I needed to ditch all the color and go for a more sophisticated, worldly look. I needed a total overhaul! Working in the model home industry for years, pretty much everything in my home was a cast off, slightly damaged or made of fabric samples! I had never before made a conscious decision of what my aesthetic would be… it just was… and it was, bold! This is what my place looked like immediately before I decided to redesign:
I fought with myself for a long time over the concept of purchasing new furniture as opposed to vintage finds… and I tried, unsuccessfully to make myself sell my beloved sofa. I struggled with color, ridding my life of all the kitsch, and validating the cost of new furnishings.
What I ultimately decided was that I could validate buying new furniture, nice furniture at that, but only if they were new classics. An Eames Lounge and black Panton chairs will never really go out of style; I'll make my grand kids sit on them someday. With the exception of my coffee table (I fell in love and had to have it) and a few smaller things here and there, almost everything else in my apartment has some history or it is something I made. I got in an eBay bidding war over my 100-year-old Pakistan rug. I searched the internet high and low for an affordable option to buy oil portraits, when that didn't work out, I stole the images fair and square from the internet, had them printed at Kinkos and framed them in the finest IKEA frames I could get my hands on. I haggled with street vendors in Cape Town, South Africa for some tribal bracelets, a mask, a table runner and a pillow and some other trinkets. When a friend and I fell in love with a pretty gold chandelier that cost over a thousand dollars and realized it was made out of ordinary lamp parts, we ordered all of the pieces for $40 and had a lamp making party.
I decided to turn my living room into an art installation. The over-ambitious weekend project sat unfinished for two months! I finally got bored enough over Christmas vacation that I decided to finish it. Eleven spools of red yarn, a few dowel rods, some hot glue, and four seasons of Breaking Bad later, I made what, some have pointed out, looks like a ten foot self portrait of my hair.
My favorite thing about my apartment is that I finally feel like it really represents me. My place is definitely still bold, as is my personality. Love me, or hate me, just like my decor, I am an acquired taste!
As my apartment is finally starting to feel complete, I have come to a few realizations: 1. It is a million times easier to design for a client, than to design your own home. 2. I will never be anything but bold, and that is okay. 3. I like kitsch, and no matter what anyone says, I don't have to let it go completely. 4. I will probably completely redesign my home every few years until the day I die. 5. When I run out of projects it's time to move, and I think it's about that time!