These Are the Only 3 Things You Need to Host a Lazy Party
We independently select these products—if you buy from one of our links, we may earn a commission. All prices were accurate at the time of publishing.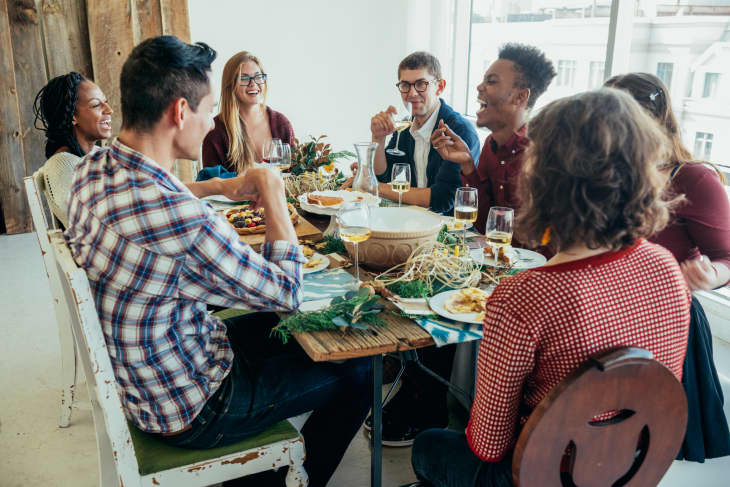 Welcome to Easy Untertaining! It's a term we coined here at Apartment Therapy to describe those get-togethers that just kind of… come together.
Follow Topics for more like this
Follow for more stories like this
If you, like me, love hanging out with people but are hopelessly lazy about planning get-togethers at your home (beyond sending out the invitation and having maybe some food and drinks), fear not! I often have held back from entertaining because I want to have a fun theme or game or decorations, but know I will not get my act together enough to do it right. But the fact is, you really don't need to do a lot to host people for a fun, chill, memorable party. You can be lazy and you can have a party. In fact, you only need three things to make it happen! Here they are:
"I'm not into flowers," you may be thinking. "I don't have time to get them. They'll die. They're not necessary." And listen! If that's how you feel, I can't stop you! It's your party, and it's your life. But here's the thing: a bunch of flowers will immediately elevate a table full of Chinese food takeout to a ~fancy~ table full of Chinese food takeout that feels worthy of a capital-G Gathering. Just avoid anything too fragrant—lilies are probably not the way to go—and it'll look like you've done a lot of work. Yes, a cute little plant can do basically the same job (especially if allergies are an issue), but entering someone's home and seeing flowers instantly makes you feel like something special is in the air.
This requires a tiny bit more thought than what flowers to buy or what chips you like, but I promise it's worth it. Any little personal touch will do, but I love the idea of writing conversation starters on cocktail napkins. You can write a question like, "What's your favorite fun fact?" or, if you want people to really mingle, you can prompt them by writing, "Go up to someone you haven't met before and give them a compliment!" Some other ideas for easy personal touches: a curated playlist, name tags, a sprig of eucalyptus for everyone to take home, or a backdrop for people to take selfies against.
Signature cocktails are like flowers, in that they seem fancy, but they require fairly minimal effort (and have a pretty big payoff). A big-batch cocktail like a sangria or punch can have as few as two ingredients, and if you give it a fun name like "Terri's Terrific Tonic" (or just put it in a nice pitcher), people will surely be wowed.