This Stunning Grill Pan Is My Secret to Making Effortless Summer Meals All Year Round
We independently select these products—if you buy from one of our links, we may earn a commission. All prices were accurate at the time of publishing.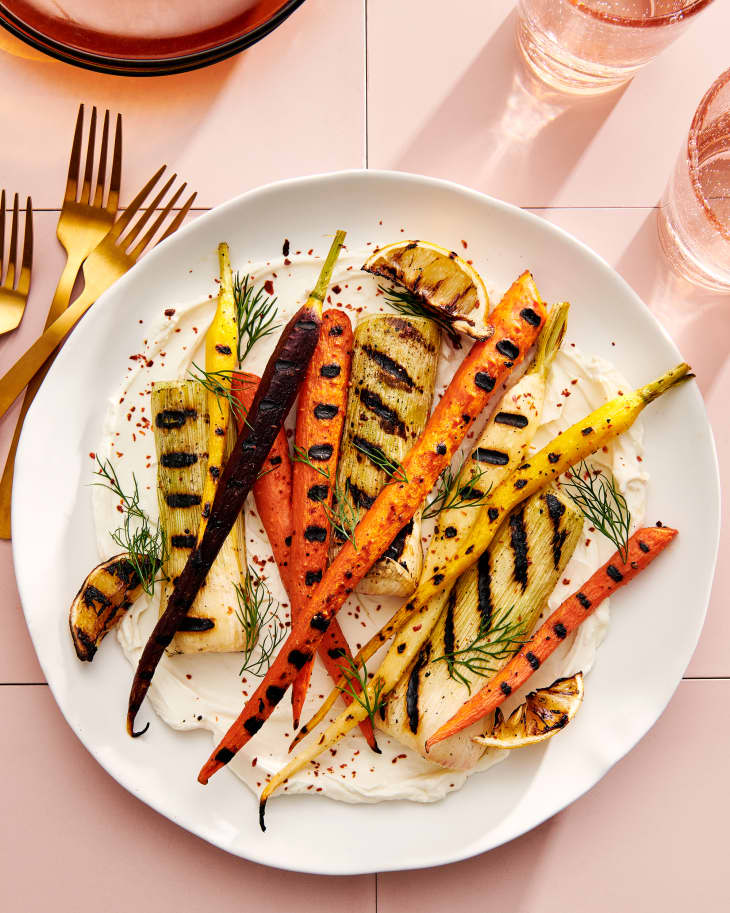 Here's the deal: While I do absolutely adore the holiday season, if I'm honest, I'm a summer-person through and through. Not only do I look better tan (who doesn't?) and rejoice at the thought of a swim, but I also love the warm and sweaty season for the edible bounty it offers. In LA, where I'm from, my summers past have been full of lugging veggie-laden bags home from the farmer's market, harvesting sweet cherry tomatoes and long, striped zucchini from my garden — and best of all, composing fresh and colorful dishes with all the seasonal goodies on the grill.
These days, with NYC temperatures getting lower and lower, I find myself in a bit of a cooking rut. Sure, I love soups, stews, and braises, but I miss the feeling of finishing off a meal that was fresh, light, and easy. I find myself day-dreaming about throwing veggies on the grill for an all-season salad or topping a power bowl with seared mushrooms and onions scored by a grill's identifiable linear branding. I guess what I'm saying is — as I'm currently bundled up in my coziest, chunkiest sweater — more than missing summer, I miss my grill. But, a girl can't just sit in her soon-to-be-winter-blues without at least trying to incorporate a little warm-weather joy into her daily routine. So, I set out to rectify the problem and got my hands on a solution my colleagues (and our readers) continuously vouch for: Le Creuset's Skinny Grill.
Now, if you're thinking I want it just to sit out on my stovetop and never leave, then you and I share the same sentiment, my friend. Since the stunning cooking tool arrived a couple of weeks ago, it hasn't left my stovetop even once (save for a quick wash), but it deserves its spot front and center based on a lot more than its good looks.
On my electric stove, I center the pan over a larger burner and crank the heat — because the grill is crafted with the tried-and-true Le Creuset enameled cast iron, heat is conducted from my stovetop to the pan evenly within minutes. With heat on high, I can practically tap a bell pepper, piece of blanched broccolini, or endive to the black enamel interior and achieve sear marks worthy of a July 4th bash. Most of the time, however, I set the temp to med or low and plop on veggies, meat, fish, or a sandwich (yes, I am now in the habit of a late night grilled cheese sando on my fave GF bread).
In fact, I would venture as far as to say that the Skinny Grill is a combo of a grill and cast-iron skillet. While its raised grooves make grill marks and flavor accessible, the remaining surface area (although far enough below that any meat sits above its drippings) adds another dimension to grilled goods: a golden base that's impossible to achieve on a traditional BBQ.
The grill's wide handles (which display a gorgeous Le Creuset hue of your choosing), make transporting or adjusting the cookware effortless. For a night of skewered veggies and halloumi, I grilled the veggies stovetop, then transferred them on the piping hot grill to the table, where the cookware stayed sizzling enough to get the desired grill marks on the halloumi.
I don't think I'd be exaggerating in saying this single piece of cookware has more effectively upgraded my daily meals than any other essential in my kitchen. I mean, I find myself sticking literally any and everything on it (who knew you could grill beets?) and discovering that my meals are all the better for it. Oh, and before I forget, you can snag it right now (for yourself, your loved one, your BFF) on sale at Williams Sonoma for a limited time only. It doesn't get much better than that folks.