Why Do I Need a Co-Signer on My Apartment Lease?
We independently select these products—if you buy from one of our links, we may earn a commission. All prices were accurate at the time of publishing.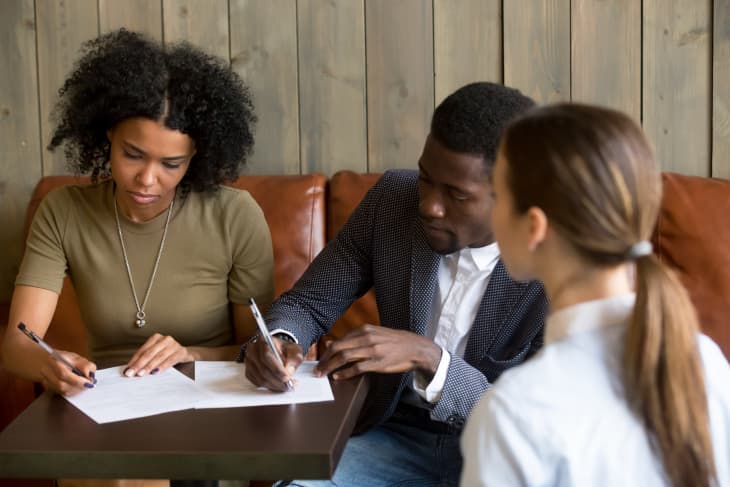 Every time I apply to lease a new apartment, it feels like I'm a competitor on "American Ninja Warrior". Just when I've finished my rope climb of finding a suitable place, I cross the balance beam of scrounging together funds for the security deposit only to meet a new obstacle—a co-signer. Bringing another party into such a personal process can be daunting, and there's often no way around it. And given the new financial realities facing Americans, we may be seeing more co-signer requirements in future leases. Below, find everything you need to know about co-signers so that you can confidently make it past the finish line and into your new home. 
Follow Topics for more like this
Follow for more stories like this
What does it mean to have a co-signer on your lease?
A co-signer is a person who legally accepts the responsibility of paying your rent if, for some reason, you're unable to make the payment. Landlords require co-signers on your lease if they see any issues with your rental application. They physically will sign your lease agreement as a co-signer. If you're in a tight spot, this is the teammate you (and your landlord) can count on to tag in and help financially.
Why would I qualify for a co-signer?
Usually the issues boil down to money. If you're just starting out and don't have much credit (like recent college grads), or if you have a low credit score, the landlord will require the security of a co-signer. The landlord may consider a history of eviction or criminal behavior as red flags that could warrant a co-signer as well. Self-employed folks, gig economy workers, and freelancers might also run into these requirements, since it can be hard to get a clear picture of those workers' actual income.
Does my co-signer need to have good credit?
Yes! That's the whole point. And the co-signer's credit can potentially be impacted by a renter's failure to pay. If you find yourself unable to pay rent, and the ball is then in the co-signer's court, any late rent payment from the co-signer can bring down their credit score. Remember, you're relying on your co-signer to grab that baton and run like heck to the finish line. Make sure you choose someone with solid credit.
Does my co-signer have rights to my apartment?
Nope. While co-signers take on the financial responsibility if the renter fails to pay, this doesn't buy them access to the property or rights as a tenant. They don't live with you, and they can't access your home without your consent. 
You might ask yourself, "Wait, then what's in it for the co-signer?" Honestly, not much. Aside from a potential benefit to their credit history, co-signers are just trying to help out their loved ones. So, be sure to choose your co-signer wisely.
Who should I ask to co-sign for me?
Your co-signer shouldn't just be someone with a stellar financial record—they also need your trust, as they'll be responsible for your access to shelter, and privy to a general idea of your finances. Typically, a parent or other family member serves as the co-signer. Close friends work, too. Just make sure they're someone you trust, someone whose finances are in order, and someone who is dependable. 
What if I can't find anyone to co-sign for me?
If no one is able to co-sign your lease, or if you'd prefer to keep your family and friends out of your business, co-sign services are available. For a fee—and we're talking hundreds of nonrefundable dollars—you can be matched with a co-signer. Of course, this process requires approval, too, and you have to pay back the service if you end up using the co-signer. But it's a resourceful option for those without co-signers available.