4 Things You Need to Know If Your Lease Expires In the Next Few Months
We
independently
select these products—if you buy from one of our links, we may earn a commission. All prices were accurate at the time of publishing.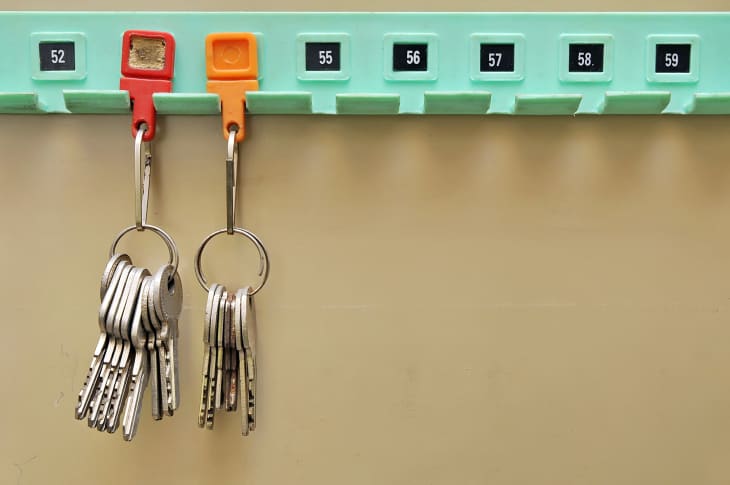 It's an uncertain time to be a renter. Not only must you safely navigate the hallways, elevators, and stairwells as you leave to get your groceries and supplies, but you're also probably worrying how you're going to pay your rent if you've lost your job—or what options you may have if your lease is set to expire in the next few months. 
Got an upcoming lease renewal with a side of burning questions? Here's what real estate agents who specialize in rentals told me about renewing a lease in the era of COVID-19 and job insecurity.
Now is a very good time to negotiate your lease
"It's an awesome time to say 'Hey, we want to stay, but the current rent is a stretch already. Can we renew our lease at this [lower] amount?' Most landlords—depending on the property and demand for the property—are going to," he says. "Someone paying you something less than the market value is far better than nothing or finding someone new right now."
Whatever your requests may be, communicate with your landlord well ahead of your lease renewal that you'd like to negotiate the terms, and they'll likely be more receptive to your ask. Also, ensure that all of your newly agreed terms are written down in a new lease so you both have a record of them. 
Your rent probably won't increase—but you should advocate for yourself  
Things are difficult for millions of Americans who may not know when their next paycheck will come—or when their unemployment check will finally arrive. But it could get even harder if your upcoming lease agreement has a rent increase that you can no longer afford.
So, what should you do? First, check your local rent stabilization laws (if your city has them) to see what your tenant rights are when it comes to rent increases. You should also talk to your landlord as soon as possible to work something out. In a time of economic uncertainty, it's unlikely that a landlord will be aggressive with rent hikes (and, in fact, they have been actively discouraged against it), says Lindsay Dreyer, the CEO and a broker for City Chic Real Estate in Washington D.C. 
"In the circumstance of a lease ending, finding a new tenant and turning over an apartment costs time and money. As a landlord myself, if I have a great tenant, I like to keep them forever. So I rarely raise rent, because a good tenant is worth way more than an extra $200 a month," she says. 
The bottom line? If you currently can't afford your current rent (let alone a rent increase), communicate that early and often. You could work out a deal where you agree to pay skipped months in the last quarter of the year or some other arrangement that makes sense for both parties. 
You (likely) can't get out of your lease early—but you can work something out
If you suddenly find yourself unemployed or underemployed, your bestie's spare room or your mom's house might be a lifeline to you right now. But this doesn't necessarily mean you can get out of your lease (and out of the payments) early. 
"Unless there is an early exit clause in your lease, then you are obligated to your lease for the lease term," says Dreyer. 
However, Dreyer suggests finding a subletter (though this may be a tall order considering the circumstances) or communicating to your landlord that you simply can't afford the remainder of the rent. Because evictions are on a stophold right now in many cities and states—and there's a moratorium on evictions for those who live federally financed housing—you won't likely be facing eviction now, but it's crucial to keep your landlord in the loop so you can avoid charges that'll affect your ability to rent after this crisis is over. It's important to note that if you're not paying your rent right now, you won't currently be evicted in many jurisdictions, but the rent and the back pay will still be due, says Dreyer. 
"If you're in a financial bind, communicate that to your landlord and see if there is a mutually agreeable solution. It's in everyone's best interest to work something out, and avoid eviction if possible," says Dreyer. 
If your roommate moves out, they may still be on the hook for the rent 
Having a roommate during a sticky financial time can be a real sense of comfort—until, that is, they decide to move out for financial reasons or to be with family during a crisis. But what does that mean for you, the person who's left behind? It depends on how your lease was set up, says Stockwell. 
If only one party signed the lease agreement, then that person is technically responsible for paying the entirety of the rent through the remainder of the lease, no matter if they live there or not or what arrangements were made between roommates. Essentially, they cannot leave you high and dry if their name was on the lease. The same goes if both of you were on the lease—you're both liable to pay the rent due per the lease agreement. 
However, if it was just you who signed it and they agreed to pay you half the installments, you may not have a lot of recourse. The best option in that case is to be honest if you can't afford the entire rent alone. 
"Tell the landlord, I cannot pay the whole thing. Here's what I can pay until X date. How can we work that out?" he says. 
Stockwell cautions, however, that even if you do broker a deal with your landlord that you are still technically responsible for the entirety of the rent in this scenario and that you could be evicted once there's no longer a moratorium.