Here's a Budget-Friendly Way to Make a Big Design Impact with Just a Tiny Bit of Wallpaper
We independently select these products—if you buy from one of our links, we may earn a commission. All prices were accurate at the time of publishing.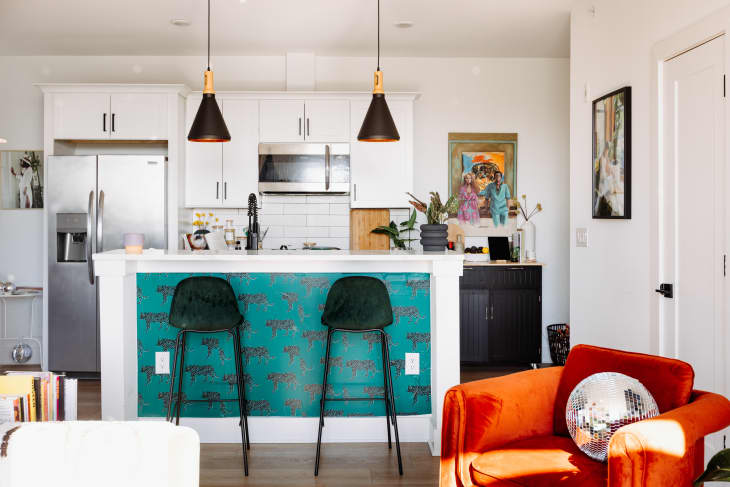 Wallpaper can be a worthwhile tool for personalizing a space, but often this material comes at a steep cost. That's why you want to be strategic about how and where you use it, and if you can find a creative way to use leftover wallpaper — or a way to use just a few panels of paper in a high-impact way — you should go for it. That's exactly what Taylor Baldwin and her daughter, Malia, did in their 800-square-foot apartment in Philadelphia, Pennsylvania, and this one design move put a punctuation mark on their otherwise neutral living room and helped establish their whole house color scheme without setting them back a fortune. 
Follow Topics for more like this
Follow for more stories like this
The mother-daughter duo has been renting this space for about a year and working to put their personal stamp on it bit by bit. Newly single when she first moved into the apartment, Baldwin wanted to create the "soft and feminine safe space" of her dreams. "The first thing that caught my attention about my home was the endless amount of natural light," Baldwin says in her house tour. "This made decorating such a beautiful experience!" 
Despite the apartment's ample sunlight and good bones, the decorating process wasn't without its challenges. In particular, the open, undefined layout made the home feel somewhat nebulous. "The kitchen, living, and dining room are pretty much connected so it was important to find ways to separate them," Baldwin says. This is exactly where a little bit of wallpaper came to the rescue. To define the "living room" from the nearby "dining room" and kitchen, Baldwin used wallpaper behind her sofa to anchor it in its own "separate" space visually. 
Typically, when people install wallpaper in a home, they take the repeat from one corner of the wall to the other — and then onto the adjacent wall, and so on, to cover a whole room — but Baldwin did the opposite. The width of the rectangle of wallpaper Baldwin used is the exact length of her green sectional sofa, which reinforces the division of the larger multi-purpose room by visually creating a clear zone for living-room lounging.
This wallpapering strategy provides a great option if you fall in love with a wallpaper print that's super-expensive, and you can't afford to do the entire wall. This is also a nice option for making use of some leftover wallpaper you don't want to waste. Now Baldwin's living room is just as unique as she is. "Decorating my home has truly felt like writing a love letter to myself that has endless pages," she says.