Now You Can Own That Cozy A-Frame Cabin Of Your Dreams, Thanks To LEGO
We independently select these products—if you buy from one of our links, we may earn a commission. All prices were accurate at the time of publishing.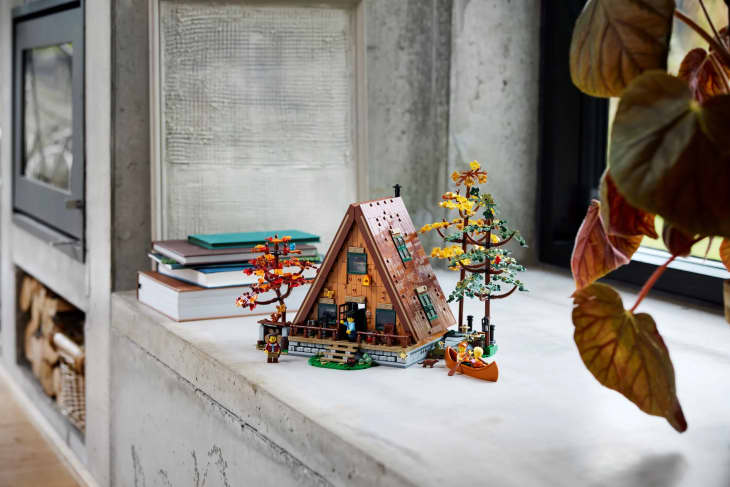 LEGO has unveiled their first LEGO Ideas set for 2023: a cozy A-frame cabin that nature lovers and tiny home advocates alike will love. The 2,082-piece set features a fall-style cabin set in the forest, with a removable roof that lets you peek into the lives of its occupants (or Airbnb renters).
Inside, the rural house has a bedroom, a well-stocked kitchen, a living room, and even a work-from-home office complete with a typewriter. Outside, the porch is surrounded by autumnal trees and several woodland animals such as birds, butterflies, squirrels, and even an otter. So cute!
The four minifigures, meanwhile, are dressed in cozy sweaters and doing all sorts of outdoor activities like canoeing, hiking, and cooking and singing around a campfire.
LEGO enthusiast Andrea Lattanzio came up with the idea for the A-frame cabin design in early 2021 and submitted the proposal via LEGO Ideas. The toy company then approved the submission for production after over 10,000 supporters gave their support. The set will come with an illustrated booklet detailing Lattanzio's creative process, as well as interviews from LEGO designers. 
If you can't afford an actual A-frame cabin, then this tiny version is the next best thing. The set comes out on February 1 for LEGO VIPs via Early Access, while the public can purchase it on February 4.
You can learn more about LEGO's A-Frame Cabin here.