This Super Fan Made a Replica of Disney World in His House Using LEGO
We
independently
select these products—if you buy from one of our links, we may earn a commission. All prices were accurate at the time of publishing.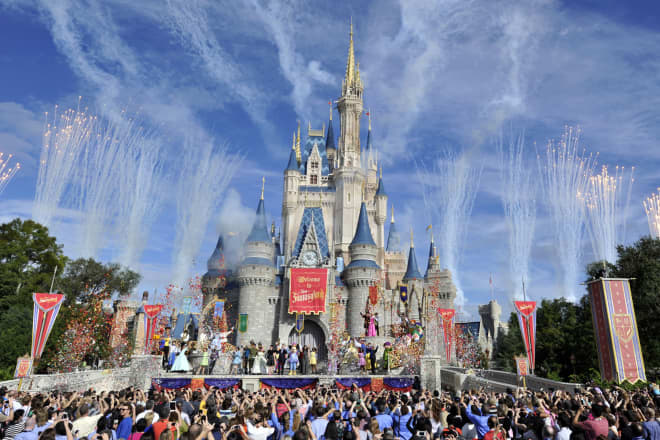 While the two Disney parks in the US remain closed indefinitely due to the coronavirus pandemic, Disney fans are finding creative ways to infuse a little Disney magic into their homes. One die-hard fan used his expansive LEGO collection to create a replica of Disney World made with the bricks in his house, and yes, your favorite rides and characters are all there.
John Daugherty, of Colony, Texas created a LEGO version of the beloved theme park in his dining room, telling Good Morning America that the project has taken him 300 hours—over the course of the past three years—and it's finally complete.
He was inspired after purchasing LEGO's Disney Castle, a highly-sought after replica of Cinderella Castle, the iconic structure that welcomes guests to the Magic Kingdom in Orlando. Daugherty then got to work on his mini version of the park, using 25 different Lego sets, including the Disney railroad and the Steamboat Willie boat, along with some non-Disney Lego sets. Of course, he included some of the park's most iconic rides, including Pirates of the Caribbean and a replica of Main Street USA at the front of the park.
Daugherty shared his creation with friends on Facebook last month, and has since started a YouTube channel in which he goes into further detail about his Lego collection. He told GMA that, for him, putting together the detailed replica is "kind of like therapy, just a fun thing to do. It's very zen."
He told Dallas news affiliate WFAA that his family, including his wife and two children, had planned a trip to Disney for spring break, but it was cancelled due to the park closures. Since he's now working remotely, he shared, "I think it replaced some of my joy that I would have had going to the park."