This LEGO Installation Invites People to Build a Futuristic City
We independently select these products—if you buy from one of our links, we may earn a commission. All prices were accurate at the time of publishing.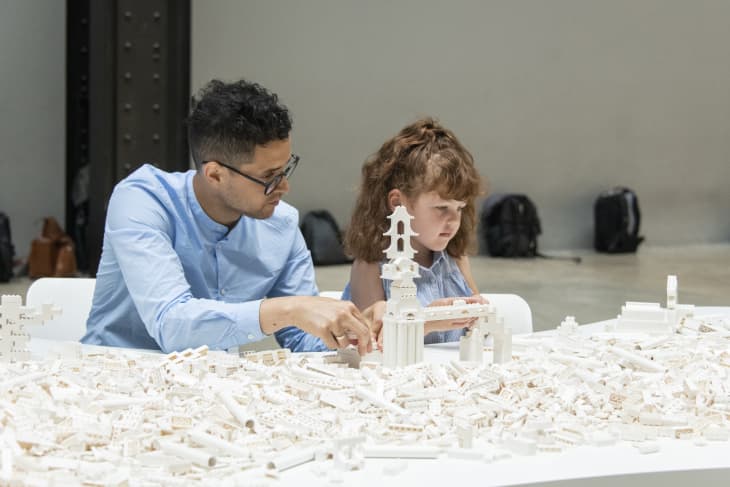 A collaborative installation created by Danish-Icelandic conceptual artist Olafur Eliasson invites people from all over the world to indulge their creativity in a unique way.
Follow Topics for more like this
Follow for more stories like this
"The Cubic Structural Evolution Project" is comprised of two tables, a set of all-white LEGO bricks and the unlimited imagination of visitors who stop by the Tate Modern Gallery in London, where the ever-changing structure was on display this month.
The current setup got underway on July 26 and has since taken on many versions as it was intended to, thanks to the hundreds of gallery visitors who contribute to the installation on a daily basis.  The exhibition is free to partake in, and the free-from structure contains no instructions. A rule-free creative environment has set the stage for an evolving, white-bricked futuristic metropolis filled with towers, monuments and columned buildings that only follows the blueprint of its individual contributing architects who decide which of the existing components to preserve or dismantle. 
Eliasson first launched his artistic experiment back in 2004 with recyclable bricks that are designed to be reused whenever the installation is shown in a new location. 
For those who miss out on the chance to add a personal touch to The Cubic Structural Evolution Project, there's a chance to can some creative inspiration from the creator. Olafur Eliasson: In real life, a series of interactive installations will be on display in the Blavatnik Building through Jan. 5, 2020.
Of Eliasson's work, Tate Modern Gallery director of exhibitions, Achim Borchardt-Hume said, "The extraordinary power of Olafur's work, I think, is that he condenses very complex ideas into seemingly simple, extremely accessible images and experiences."
The Cubic Structural Evolution continues an ongoing relationship between the Tate Modern Gallery and Eliasson, whose highly lauded 2003 Weather Project installation remains among the most popular in the gallery's history.