Lena Dunham's House Is Full of Cozy Vibes, Accessible Details, and Maximalist Style — All in Her Parents' Backyard
We independently select these products—if you buy from one of our links, we may earn a commission. All prices were accurate at the time of publishing.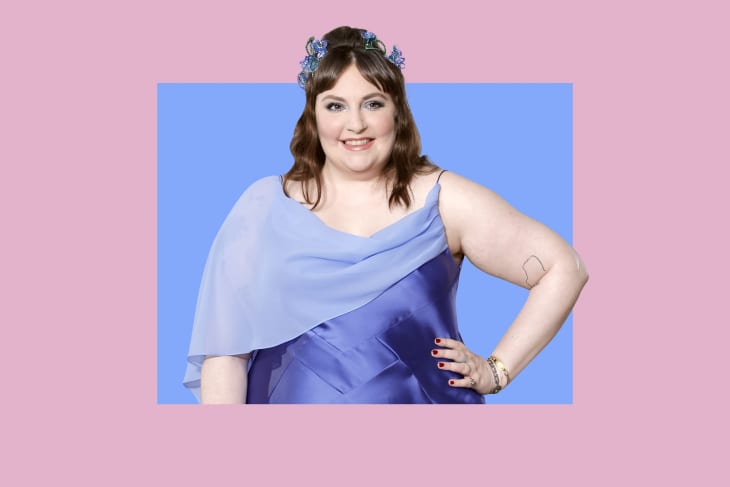 It's not unusual for adults who are close to their parents to dream about moving back in with them. After all, we could all use access to free toilet paper on occasion. But actor/director Lena Dunham took that attachment to her parents to another level and built herself a house in the backyard of their Connecticut estate. In the new issue of Architectural Digest, Dunham opens up in a first-person essay about finding her forever home… 10 feet behind her parents. 
Dunham's artist parents had purchased a vacant boarding school in northwest Connecticut, as Lena had found herself moving around the New York City area. Eager for a sense of permanence, she recruited an architect and contractor to build her a small house on her parents' land.
"And so, my family undertook their most maddening real estate project yet: building my house in their Connecticut backyard," she writes in AD.
Creating what her father told her "looks like a kindergartner drew a house," the rectangular-shaped home with a peaked roof was designed for Dunham's specific needs, including her chronic illness. The low staircase, rich blue color with corresponding blue treads, helps with her arthritis, and there's a pull-up bar in the bathtub. But the home is also filled with the cozy vibes Dunham relies on. The living room embraces a maximalist design, complete with a modern purple couch, black-and-white checkered floors, and a chintz-cushioned nook. The kitchen and dining area are equally as eclectic, complete with a teal square tile backsplash and baby blue cabinetry.
The primary bedroom is filled with heirloom furniture, including Dunham's childhood chair, and is surrounded by pink rose wallpaper. Dunham's office is a small, but functional nook, and she also has a watercolor studio with a pink concrete floor, a vintage Milo Baughman sofa, and art that varies from famed painters to Dunham's own drawings. The outdoor space is embraced with a pergola over a comfortable patio, and a rectangular swimming pool surrounded by 1960s turquoise-painted wrought-iron chaise lounges.
Unfortunately, the pandemic delayed Dunham's move into the home. She heard the details about its construction from afar since her immunocompromised status made travel all the more difficult. 
"For a family that usually spends our whole lives together, we experienced something very new: We were separated for nearly two years," said Dunham. But in that time, the house went from "idea to construction site to reality." Dunham sent 112 boxes from storage to the space, which her mom apparently unpacked for her. 
"At a moment of such widespread uncertainty, she had sought solace in making life more comfortable for me — something she had always done, but which was highlighted by the fact that we had been separated for the first time in our lives," she wrote. "I felt a shocking amount of gratitude — taking in the full blast of my good fortune — to have these parents and this home, to have a home at all."
Naturally, Dunham's return was that much sweeter — especially thanks to the home's proximity to her family.
"When people ask where I live now, I say 'between London and Connecticut.' Unless they press further, I don't blurt out '10 feet behind my parents,'" Dunham writes. "But when I do admit to this fact, they usually ask some version of 'Literally?' Yes, literally. Just as I always wanted."