Let's Settle This: Was Aidan Shaw a Terrible Furniture Designer?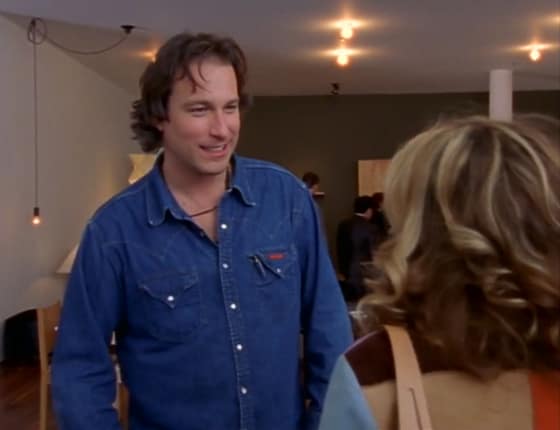 (Image credit: Buzzfeed/HBO)
Let's just get this out of the way: this is not a post about how Aidan was Carrie's worst boyfriend. Sure, he's the human version of a Life is Good sticker, but we're here to assess his design abilities. Sadly, he didn't put out a catalogue (he'd probably call it Rough Hands/Soft Heart or something terrible) but we can use context clues like the yarn necklace and solitary filament bulb pictured above to tell us what we need to know.
The Chair
When Carrie first meets Aidan, she describes him as "warm, masculine and classic American just like his furniture." I mean, he's wearing a Canadian tuxedo, but whatever, we're here to talk about his chairs and stuff.
Carrie impulse buys the aforementioned chair that doesn't really go with her apartment and that she didn't need because girl can flirt. Aidan stares at her kind of creepily while telling her he ripped it out of an antique train with his big manly hands (subtly conveying that he's the opposite of Mr. Big) and that he'll give her a discount because his dog humped her leg.
Let's ignore the fact that Aidan is the harbinger of the "dogs can be anywhere just like people" trend and focus on the chair itself. It's a nice chair. It's handmade and the worn-in leather that he makes Carrie touch (creepily) adds warmth and comfort and the cushions appear to be stuffed to perfection. He's on okay chair designer and a good businessmen since he gave her a discount after creating a hostile shopping environment: B-
Okay Aidan, we get it— you're the king of DIY. Points for keeping the original historic interest of the cabin (the floors are from 1874) and you've upgraded the necessity to make the home livable yet rustic. The island has what looks like butcher block countertops and are a nice, unexpected mint color. Also there are some birch tree branches artfully resting on a wall which is very Anthropologie.
Obviously not a spot you'd rush to snag on AirBnb but that's not what Aidan is about, man. So taking into account the owner of the space and its purpose, this space gets a (begrudgingly awarded): A.
After moving into Carrie's home and suggesting she clear things out of her closet to make room for him (and that heavy handed metaphor), Aidan and his pile of boxes don't give us much to work with, interior design wise. Let's give Aidan points for understanding the value of a good floor plan and wanting to knock down the wall.
It's hard to find images of the apartment mid-reno not covered in boxes, so let's take this time to instead review a bunch of Aidan's shirts as a reflection of his taste level. Shirt grade level: F.
Ok! Your Turn! Does Aidan posses an eye for design? And also if someone wants to bring up the sophisticated cool of Mr. Big's apartment, I won't stop them.