Perfect Placement: 12 Living Rooms That Nailed Hanging Art Above the Sofa
We independently select these products—if you buy from one of our links, we may earn a commission. All prices were accurate at the time of publishing.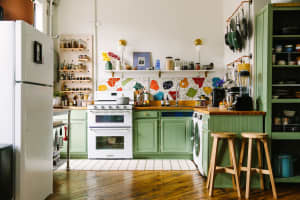 Can't-Miss House Tours Straight to Your Inbox
Keep up with our latest house tours each weekday with our House Tour of the Day newsletter
Are you staring at the blank wall above your sofa with hammer in hand, afraid to punch the first hole to hang your art? Or maybe you've already hung art above your sofa, but every time you look at your handiwork, something feels "off." Hanging art isn't rocket science, but with so many different variables, it can sometimes be difficult to get just right. This post is filled with examples of rooms that have nailed (pun intended) the placement of art hanging above their sofa—use this as visual inspiration to hang art in your own space.
How to get the most out of this Rooms That Get it Right Guide:
Below, find a sofa + wall situation that most matches the one in your home, and use the photo as a visual example of how you might hang art in your space. Pay attention to the size of the art, how far it hangs above the sofa and the amount of room between the top of the art piece and the ceiling.
The art in the above photo could have been hung a little higher, in my opinion, but because of the low hanging (and fabulous!) chandelier, the lower art hanging placement makes perfect sense in the room's overall composition.
If your sofa is in front of a window and the wall space above it is split up like the above photo, take a cue from Alison and Jeff's living room and hang art on either side of your window.
If the art above Alex's sofa had been a canvas or framed photo, I would have hung it lower. But Alex did the exact right thing by installing these mini sculptures (that stick out from the wall quite a few inches) a little higher than usual; no one will hit their head on them when leaning back on the sofa now.
This art piece could have been too big/overwhelming for this sofa and room, but the wall was painted a dark hue, and that helps the art feel like it fits just right.
Hanging light fixtures, floor lamps, table lamps and other lighting can help balance out too-small hanging decor when dealing with a long sofa in a room.
Julie's living room shows off an excellently hung art gallery wall. She took the wall space between the two windows and above her sofa and used that as the blank canvas. Evenly spaced, the gallery wall is balanced and creates a great shape—a shape that acts like one individual art piece.
Don't let architectural details give you a hang-up about hanging art above your sofa; either work around them…or completely ignore them and hang art where you want to anyway.