Liz's "Old Charm" Parisian Apartment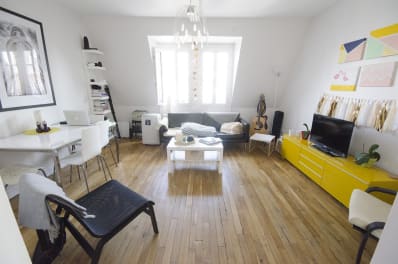 Name: Liz
Location: Paris, France
Hello! My husband and I (along with our two dogs and two cats) live in Neuilly-Sur-Seine (just on the border of the 17th arrondissement of Paris), France.
We're two Canadians that transferred to Paris about a year ago for work, and we absolutely love it here.
Our apartment is 70 square meters, and we've had the most fun making it our own.
I especially love the mix of our modern / minimalist style combined with the old charm of a Parisian apartment!
See more of Liz's apartment on her blog Half Baked LizThanks, Liz !
• Interested in sharing your home with Apartment Therapy? Contact the editors through our House Tour & House Call Submission Form.