A Small Boston Studio Apartment Has One of the Best DIY Bedroom Lofts Ever
We
independently
select these products—if you buy from one of our links, we may earn a commission. All prices were accurate at the time of publishing.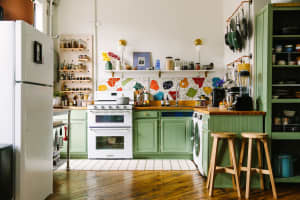 Can't-Miss House Tours Straight to Your Inbox
Keep up with our latest house tours each weekday with our House Tour of the Day newsletter
Name: Graham Gardner, partner Sarah, and dog Murphy
Location: Jamaica Plain — Boston, Massachusetts
Size: 500 square feet
Years lived in: 1 year, renting
We are Graham and Sarah—both nearly 30, nearly married, and together for nearly eight years. So far, so good. Sarah is the smart one—thoughtful, sometimes shy, always empathetic, and caring. When not teaching college students about the science of perception, playing classical violin, or working towards a PhD in Neuroscience and Cognitive Development, she's watching reality TV or YouTube vlogs and finding new music. I'm Graham, the creative one—energetic, helpful, and often planning a new adventure or making something by hand—like my recent obsession with leather wallets. I find beauty in organization so naturally work in research at a design firm in Cambridge.
Our world mostly revolves around our dog, Murphy, a 9-month-old Goldendoodle who loves the local dog park and green spaces, sleeps everywhere except his designated dog bed, and tags along for as many adventures as possible.
All three of us share a 500-square-foot studio in Jamaica Plain—a neighborhood of Boston. The building is a beautifully restored Catholic school and sits next to a vibrant community center in the heart of the Latin Quarter of Boston.
Living in a studio apartment is no small feat but we feel especially suited for the task as we are wannabe Tiny House-ers and masters of the art of doing your own thing in the company of others. While building our own loft to create a bedroom space has had the biggest positive impact on us, it is things like having wireless headphones for the TV, flexible furniture arrangements, a hidden washer and dryer, and clear communication strategies that make things harmonious.
Our furniture is a mix of IKEA (couch, yellow chair, tall shelf, and desk), vintage finds (side tables, mid-century modern dresser, loft ladder from the Brimfield Flea Market, and a few chairs), DIY (loft and entry shelf/key hooks made from old wooden fruit boxes) and hand-me-downs (German entertainment center, coffee table chest that hides our game collection, kitchen island made by an old co-worker's husband, and chairs saved from the IDEO trash pile and repaired at home).
Our style is a mix of modern and nostalgic, which highlights what we value, especially when it comes to family. When my mother and grandfather both passed away in October of 2015 they left behind a three-bedroom house full of furniture, housewares, and memorabilia that needed to be cleared out. The experience forced us to (among other hard things) make hard decisions about what we wanted to keep and give away or let go. While we have a couple of boxes that need another round of KonMari-ing, we mostly released ourselves from the burden of carrying everything with us—partly because of physical space constraints and partly because we want to be intentional about our future. We kept a lot of photos, a select few kitchen items, the entertainment center that still has crayon graffiti from the early '90s, a cedar chest, and a few instruments and their world-traveled cases on display with concert posters in our "storage area" above the bathroom and closet.
Our fridge is mostly full of seltzer and Home Chef meals but we love to cook together when things slow down and bake on the weekends. Our space is designed around creating a peaceful and functional environment that's perfect for hiding away from the world or inviting a select few friends or loved ones inside—just how we like it.
What is your favorite room and why? The bathroom! Just kidding. Considering we live in a studio, our room options are limited but our favorite part of the apartment is the "living room" section because it is the heart of our space and everything is practically within arms reach.
Any advice for creating a home you love? Elevate and celebrate the everyday.
We think it's so important to love everything in your home, right down to the boring little things. Sometimes that means getting rid of clutter but other times it means making the decision to spend a few extra dollars on an orange recycling bin, the perfect flower pot, or a quality pen. We are much happier treasuring the small number of things we own than we would be with a big house full of thoughtlessly accumulated stuff.
When it comes to art and decor, we like to tell a story beyond just family photos and literal memories—and think outside the frame. We mounted an old Atari game of my dad's and Sarah's grandmother's music box. We put up a pegboard to display important (and beautiful) everyday tools and inspiration that speaks to who we are and what we do. We also frame things that don't often make it on a wall: like postcards and my collection of Subway T passes from my years in college. If you think it's beautiful, it inspires you, or makes you smile—put it on a wall and call it art.