This Log-Shaped Candle Holder Will Make Your Apartment Unbelievably Cozy
We independently select these products—if you buy from one of our links, we may earn a commission. All prices were accurate at the time of publishing.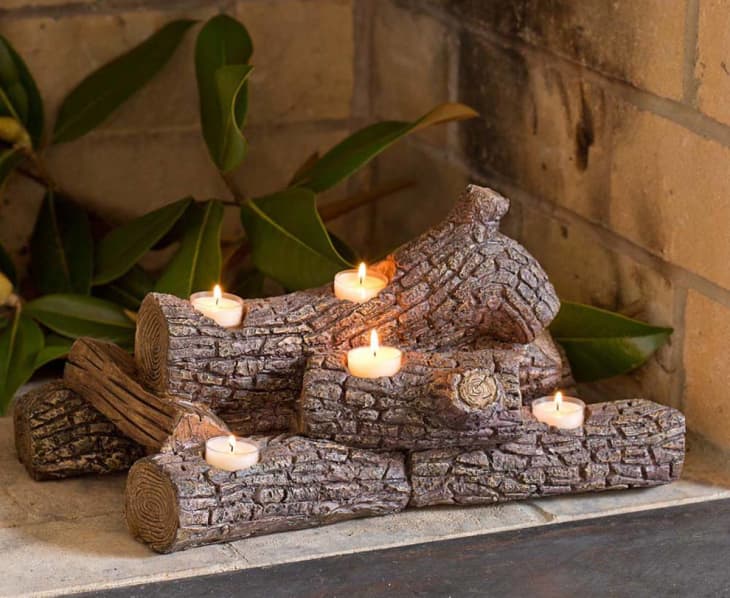 One of the best parts about autumn is curling up by the fireplace and relaxing with a good book or a binge-watching session. Of course, not everyone has the luxury of a functional fireplace. But now, instead of streaming the Yule Log on Netflix, you can get the next best thing: a log-shaped candle holder.
Follow Topics for more like this
Follow for more stories like this
The log candle holder is a beautiful way to make your living room feel warm and welcoming without the to-do of getting a fire going and tending to it all night long. Plus, you won't have to deal with any of the mess that comes along with making a real fire, either. Just stock up on tea lights and you can enjoy the ambiance of a roaring fireplace whenever you want within a matter of seconds.
If you have an unused or non-functional fireplace, you can place the log candle holder inside to give the illusion that you have a roaring fire going. Or, if you don't have a fireplace at all, it'll look lovely in a bay window or as a centerpiece on a dining room table.
There are two faux-wood log styles to choose from: light birch and oak. Light birch holds eight candles and measures 18"L x 10.5"W x 8"H. Oak, the darker option, holds seven candles and measures 18.5"L x 9.5"W x 9.5"H. You can't go wrong; both are surprisingly realistic.
Ta-da: You just built a fire. Now all you need is a cozy blanket, a good book, and a pumpkin-flavored treat and you'll be all set for the perfect autumn afternoon.