Here's Why a Rainy Day Is the Best Day to Look at a House
We independently select these products—if you buy from one of our links, we may earn a commission. All prices were accurate at the time of publishing.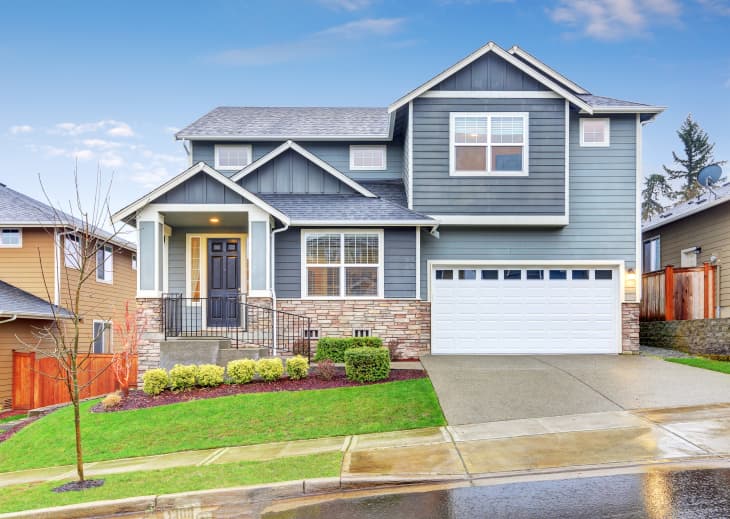 When it's gloomy and cloudy outside, you might be tempted to text your real estate agent and ask about rescheduling the day's home tours. ("Something just came up," you might write, aka, you urgently need to snuggle up on the couch with a blanket, a good book, and a hot cup of tea.)
But according to real estate agents, you really should resist the urge to do this. A rainy day is one of the best days to look at a house, for several important reasons, as Gail Hardy, a real estate agent in Knoxville, points out in this clever TikTok video. 
"No one really wants to go look at houses when it's raining, but it's always smart to do so, and let me show you why," she says, wearing a raincoat with the hood up.
Hardy then cuts to a clip of water dripping out of a gutter — and pooling in a puddle below, right next to a home's foundation. She also shows a gutter extender that's full of small landscaping rocks, which is likely preventing water from draining away from the house as it should.
Other real estate agents agree with Hardy. Craig McCullough, a real estate agent in the Washington, D.C. area, also recommends rainy day tours because they can highlight water-related issues inside the house, too. (Pro tip: McCullough recommends you take a big, deep breath through your nose on the tour — you might get a whiff of moisture and mildew, which have very distinctive smells but aren't always super visible.)
"Water is one of the most destructive issues for a homeowner, and it also creates issues that can often be missed," he says. "Leaks in a ceiling, moisture in a basement, and mildew smells are all heightened on a rainy day. If these are new leaks, they may not have developed water stains or dissolved drywall yet."
If you're buying a home that's on or near a body of water, touring on a rainy day can also help you fully understand what you'd be getting yourself into if you buy the property, says Emily Cressey, a real estate agent in Seattle.
"I have been to lakefront homes where the whole grassy backyard was flooded by water on a rainy day, and the dock the sail boat was tied to was underwater as well," she says. "Property in low-lying areas, wetlands, or poorly-draining soils can be more easily identified during or after heavy rain." 
In places like Seattle, where there are lots of hills (and also lots of rainy days!), Cressey also recommends that buyers pay close attention to how water is moving along any paved surfaces like driveways. Is it flowing toward the house, or away from it? 
"The house should, ideally, be on high ground with water routed away from it or around it," she says, adding that installing a French drain or gate can help with this issue. 
Another pro of pulling on your rain boots and grabbing an umbrella? In today's fast-moving market where every open house seems to have a line snaking around the block, you may just have the place all to yourself — and that could be an advantage when it comes time to make an offer.
"It's an incredibly competitive market right now, and anything that gives you an edge is a good thing," says Mayer Dallal, managing director with mortgage lender MBANC. "And you can always change into dry clothes when you get home."