Look! ATLA Holiday Gift Bag Winner's "Before and After"
Here's a welcome blast from the past: ATLA reader Brooke was the winner of our biggest Holiday Gift Bag giveaway last year, finding herself awarded with a complete living room set, compliments of IKEA, Burbank. That's what her place looked like prior to winning up above. Check out how it looks now after the break…
One more photo of Brooke's apartment "before".
And now here it is "after"!
"We are young, work a lot, and don't make a ton of money. So we spent hours and hours scouring Craigslist for furniture, where often times thriftiness trumps style. And when this insane stroke of luck came our way, we both breathed a huge sigh of relief.
When you move in together, there's that separation in the apartment of 'your stuff' and 'my stuff.' But now the living room is filled with 'our stuff' that we share together. And it makes our space feel more like home.
The white couch is so cozy! But it's also a mission to keep it clean, especially with a mischievous Klaus on the rampage. (Plus our tendency to spill.) But the cover is machine washable, so we'll be good to go when the time comes.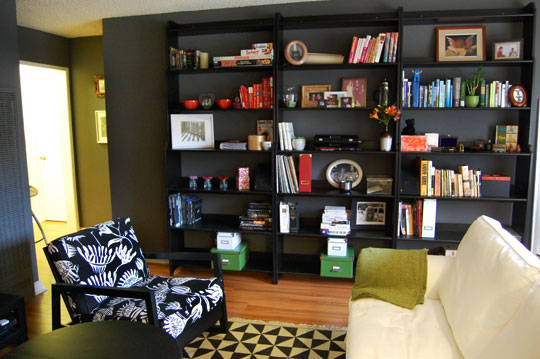 The bookshelves have actually had the biggest impact on our whole apartment. We have so much space for storage now. We were actually LOOKING for things to fill the shelves! But now, it's just really nice to have a place to display our personal odds and ends without it looking random or sloppy."
Klaus likes his new home too, especially the flowers.
Max and I are so thankful to Ikea and Apartment Therapy for this awesome prize. We liked our apartment before, but now we LOVE it. This furniture has made such a difference.

Thanks Brooke, Max (and Klaus, the naughty feline) for sharing with us all!
Published: Apr 4, 2008