Lowe's Wants You to Show off Your DIY Skills and Give Thanks to Essential Workers
We independently select these products—if you buy from one of our links, we may earn a commission. All prices were accurate at the time of publishing.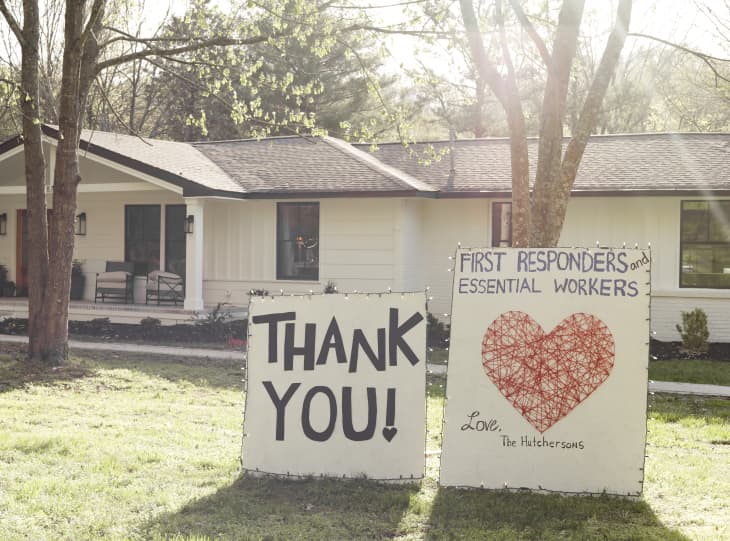 Amid the growing coronavirus pandemic, people all over the country are coming together to show support for the medical professionals on the front lines working to slow the spread of the virus. From quarantined New Yorkers stepping outside to clap and cheer in support of essential workers each evening at 7:00—the typical time of a shift change at most hospitals—to companies like Airbnb and the Four Seasons NYC offering free housing to first responders of the crisis, showing support for those working tirelessly with no end in sight has never felt more crucial than right now.
Lowe's is inviting Americans to use their DIY skills in a countrywide Do-it-Together project. A rep for the home improvement store told Apartment Therapy that along with committing more than $100 million to support the needs of Lowe's associates, customers and communities—including a $10 million donation in essential protective products for medical professionals on the front lines— they're offering the opportunity for Americans to #BUILDTHANKS by creating DIY "thank you" messages using objects they already have at home.
Follow Topics for more like this
Follow for more stories like this
Whether you want to put your holiday lights back out for a little Christmas cheer in the springtime, paint a banner to hang on your door, or use chalk to thank workers on your driveway or street, you can get as crafty as you want using whatever tools you've already got in your arsenal.
Show off your skills on social media by using the hashtag #BUILDTHANKS. The project officially kicks off April 6, but you can get started any time you get that creative itch—or need to combat quarantine boredom.
"We take great pride in being a business that enables the spirit of do-it-yourself, but as we navigate this pandemic together, we realize it has never been more important for us to also do-it-together, even if the definition of 'together' has changed," said Marisa Thalberg, Lowe's executive vice president chief brand and marketing officer, in a statement. "Knowing many are looking for little constructive projects to do while at home, we hope to provide some extra DIY inspiration to channel that energy into messages of positivity and support. To the medical professionals, health care workers, our own more than 300,000 associates, and all essential retail workers, this is a way we can say thank you for all you are doing right now."
Check out some inspiration and ideas for your DIY project here. The possibilities are truly endless.