Made In Has Launched "The Most Exclusive Knife of 2021" — and It's Sure to Sell Out
We
independently
select these products—if you buy from one of our links, we may earn a commission. All prices were accurate at the time of publishing.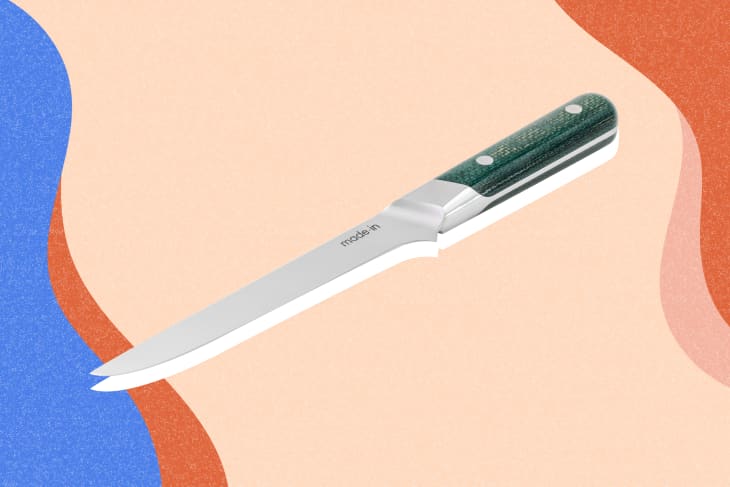 Here at Kitchn, we're big believers that there are three key knives every home cook needs: a chef's knife, a paring knife, and a serrated bread knife. Of course, the more knives in your literal tool kit, the more prepared you'll be. Which brings us to the brand-new Limited Edition Boning Knife that just launched over at Made In.
If you're not familiar, allow us to back up a second: Made In is one of our favorite direct-to-consumer cookware companies. The brand makes one of the best carbon steel roasting pans we've ever tested, a ridiculously great sheet pan, super cute tabletop pieces, and so much more. Everything they make is sold directly to consumers online.
In addition to the brands ever-expanding line-up of mainstays, limited edition pieces get dropped from time to time. And they almost always sell out quickly. Today, that's the Limited Edition Boning Knife, which Made In is calling "the most exclusive knife of 2021." It will be your only chance to get a boning knife from Made In this entire year. It's still available (for now), so let's take a look.
A boning knife has a long-ish, skinny and flexible blade that allows you to work around bones and joints for super-precise cuts. It's for, you guessed it, deboning things — especially chicken thighs! — but you can also use it to trim fat from a brisket or carve up a watermelon. And this boning knife is full tang, fully forged, and made by fifth-generation bladesmiths in the heart of France. It also has a special handle, made of a beautiful forest green micarta, which you may have seen pop up in other limited-edition Made In knives.
"I haven't seen a prettier knife handle," says Kitchn's Tools Editor, Riddley Gemperlein-Schirm. "It has an awesome, vintage-y quality to it. And the handle is round and smooth, which means it'll feel super-comfortable in hand."
Unlike other knife launches from Made In, this one will not reappear in their classic handle colors. Meaning: This is it! Get one while you can. There are less 1,000 left and it's sure to sell out.

Buy It: Limited Edition Boning Knife, $149