Made In's Grill Pan Sold Out *Twice* Last Summer — but It's Back in Time for Grilling Season
We independently select these products—if you buy from one of our links, we may earn a commission. All prices were accurate at the time of publishing.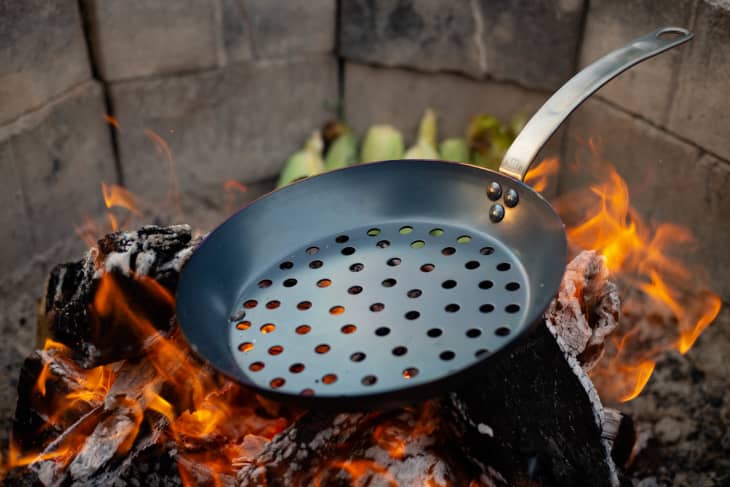 You have the burgers ready to go, the rosé and beer on ice, an Instagram-worthy al fresco table setting, and sunny blue skies. It seems like nothing could make this cookout any better. Well, think again! Made In's Blue Carbon Steel Grill Frying Pan, an 11-inch frying pan made specifically for outdoor cooking, can instantly upgrade your grilling game. With features ranging from a perforated bottom to lightweight components, this piece is designed to the best open-fire pan around — period. And it's sold out enough times to prove it's a winner.
Made from conductive carbon steel that will stand the test of time, Made In's grill pans are crafted in France and built to handle roaring heat up to 1200 degrees Fahrenheit. That means it'll work equally well on your grill or over a fireplace when you're camping. The pan also has 62 perforations so that flames will directly reach your food, delivering that grilled goodness. As for the carbon steel finish, it's a mix between cast iron and non-stick, meaning it lends itself beautifully to high-temperature cooking. Lisa, lifestyle director at our sister site, Kitchn, swapped her old flimsy perforated pan for Made In's grill pan last summer. "It's great for vegetables, yes, but it's magic when it comes to grilling shrimp," she noted.
For starters, Lisa called out the long, curved handle that makes it easy to flip and toss items over an open flame. The pan's flat base "sits nicely over the flames," and once you season the pan, it develops non-stick properties over time that make it easy to cook in as well as "shockingly" easy to clean. And if you're planning a camping adventure this summer, the pan clocks in at just 3 pounds and 2 ounces, which means it's light enough to bring on your trip without weighing down your pack.
Since launching last summer, the pan already sold out twice, and now that's it back in stock, we recommend adding one to your cart ASAP before it's gone again. As Lisa put it, "I just wish it came into my life sooner."