3 Foolproof Ways to Make a Small Space Look Way Bigger, According to Home Stagers
We independently select these products—if you buy from one of our links, we may earn a commission. All prices were accurate at the time of publishing.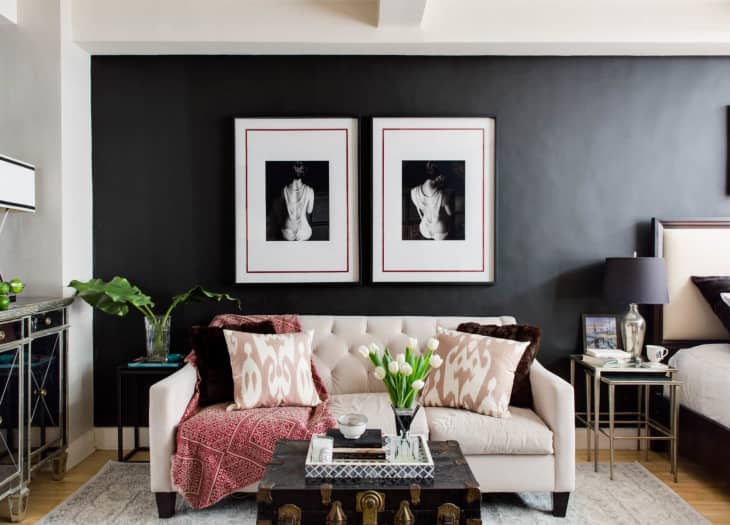 When designer David Lucido and his partner renovated and redecorated their Manhattan studio apartment, they opted for a modest, two-person table, rather than a traditional dining setup. This simple trade-off lent the dining area the illusion of roominess while maintaining functionality.
At 460 square feet, the space shared by Lucido, his partner, and their Jack Russell is certainly compact, but it's designed in a thoughtful, purpose-driven way. Everything has a place and everything has a reason for being there — which is Small Space 101.
Inspired by the simple concepts employed in Lucido's impressively designed space, I asked three professional home stagers how they would refashion a small space to make it look larger, including what they suggest homeowners and apartment dwellers stash away, swap out, or scale down.
Pare down the accessories on display.
In a small space, too much of anything can come off as clutter, leading rooms to feel cramped. Laura Akahoshi, design director of Property Staging Services, recommends reducing visually busy decor. "Wherever possible, opt for a few larger accessories instead of a large collection of smaller pieces and limit the palette to shades of one accent color," she says.
Akahoshi cautions against overdoing pillows and throws, which can impede on visual space. "Pick one color that complements the space, incorporate two to three pillows for a large sofa, and neatly fold a throw and place it over the back of a lounge chair," she says. She also suggests swapping knick-knacks for intentional empty space when staging open storage, such as bookshelves.
Meanwhile, Rohini Arya, owner of Treehouse Home Staging & Redesign, recommends stowing things like kids' toys and pet effects somewhere out of sight.
Pay Attention to the Visual Weight of Color
While small space dwellers shouldn't shy away from using color, bright and bold colors will draw the eye to them, so it's important to use them pragmatically. "Filling shelves with books of every variety and color can make a room appear darker and cramped," says Akahoshi. "Instead, create vignettes using neutral-colored books, greenery, and decorative pieces made of glass or metal to reflect light."
Similarly, Arya recommends switching to light colors for interior paint and furnishings, which will brighten and open up the space, while being less taxing on the eye. "I would use softer, lighter hues to make the room appear larger. Furnishings and upholstery that are in the same color family will also blend well in the space."
While white has always been a classic paint choice for small spaces, homeowners shouldn't feel limited to renditions of cream and eggshell. For instance, soft earth tones can be used to make small spaces more vibrant, while still being neutral enough to recede into the background, allowing for furnishings and accessories to really pop.
Don't Go Overboard on Furniture
Big-ticket items like sofas make a big impression in a small space. As such, Andrea Bailey with Staging by Andrea says that it's important to consider design and placement thoughtfully. "If there is too much furniture in one room, redistribute it somewhere else in the house or put it in storage," says Bailey. "In addition, when any furniture is in poor shape or looks uncared for, it should also be removed."
Bailey suggests substituting bulky furniture with pieces with exposed legs. Hanging curtains from the ceiling is another trick she recommends to lend the impression of high ceilings. Long, flowing curtains or drapes, in place of blinds or shades, will also help to elongate the look of wall space.