Make Over Your Makeup Area: 10 Vanity Organizing Solutions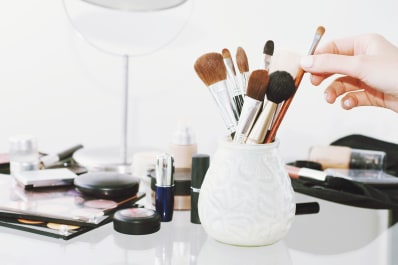 (Image credit: Getty Images)
There are a lot of things in my apartment that I could do without, but my vanity is not one of those things. It's where I get ready every day which frees up space in the (shared) bathroom. It's where I store all of my beauty products and tools and sometimes it even doubles as a desk when I really need to focus on a project. The only problem is that it can be hard to keep it neat. Any storage solutions need to be versatile and fit in - or on - the vanity without taking up too much space, and products need to be easily accessible for daily use.
If you're in the same boat, don't worry—organizing your favorite products and keeping your vanity in check is totally doable. From small solutions like using a utensil divider to bigger DIY projects that actually alter your vanity, here are 10 organizing hacks that will totally upgrade your getting ready station.
Store Your Tools Creatively
Create a Storage Display
For storage that's both functional and decorative, try this DIY project from Charlotte Russe. With a little wood, some pipes and paint, you can fashion this organizer that doubles as a planter. It's perfect for storing makeup brushes while still keeping them out in the open where you can quickly grab the ones you need while you're getting ready.
Fashion a Leather Brush Holder
If you'd rather put your brushes away and keep them somewhere stylish that doesn't take up much space, this leather roll-up makeup brush holder might just be the perfect solution. It's beautiful and functional, can fit in a drawer or a storage bin, and it's super easy to make—plus, it's travel friendly. Check out the tutorial on Hello Glow.
Stitch an Easy-Clean Brush Bag
Similar to the leather roll-up brush holder, this one from Plan B Anna Evers is an alternative if you're looking for something a little easier to clean (it's lined in case of makeup spills) but a little more complicated to put together, since it involves some sewing. Still as space-saving and travel-friendly, though!
Make It Magnetic
Arrange Products on a Magnet Board
The best part about a magnet board like this is that it's totally versatile—you can hang it on the wall if you're short on space or prop it up against the mirror if you can't or don't want to install it. You can also customize it however you want, so it can easily be made to match your decor. Get the instructions to DIY your own on POPSUGAR.
Add Magnetic Strips Inside Drawers
To keep tiny metal objects—think bobby pins, tweezers and nail clippers—in check, install magnetic strips inside your vanity table's drawers. You can buy the above ones (the magnets are hidden behind bamboo) from Amazon, or you can purchase magnetic tape and fashion your own.
Raid Your Kitchen
Sort Small Items With Ice Cube Trays
Okay, so maybe don't literally raid your kitchen (that would just leave your kitchen disorganized), but you can use inexpensive objects that you'd typically use in the kitchen to keep your vanity in tip top shape. Need proof? Look how well nail polish bottles and other small beauty products fit perfectly in ice cube trays, as evidenced by Tesco Living.
Divide Products Like Utensils
Another smart way to divide up products? Use a silverware divider, like in this example from WikiHow. You can fit small and larger products alike in them depending on the size and layout you get—measure it to make sure it works for your vanity drawers, first!—and keep everything organized and in one place. If you have multiple drawers and a lot of products, get a divider for each drawer, and you'll never forget where anything is again.
Display Perfume on a Spice Rack
If you have a lot of perfume that you want to display—and have easy access to—in a way that feels sleeker and more organized, try placing them on a spice rack. A spice rack, like in the example above from The Style and Beauty Doctor, can help you use more vertical space, as opposed to keeping all of your perfume bottles out on the tabletop.
Hack Your Vanity
Add a Glass Top
For a serious organizational hack, you can upgrade your existing vanity to create more storage by adding dividers and a glass top, like this one at Liz Marie Blog. This particular vanity table was built from scratch, but you could easily follow the steps to add a similar top to your current table. Then, you'll be able to neatly store your beauty products, and you can slide them out as needed instead of digging through your makeup bag.
Install Hidden Side Storage
A great way to keep your hair tools handy without them becoming an eyesore? Add a hidden storage caddy to the side of your vanity table where it'll be out of sight but still easy to access when you're getting ready. This example from IKEA Hackers also includes a plug mold, so it'll be extra easy to plug in your heat tools—no more reaching under the vanity just to plug in your curling iron.
Apartment Therapy supports our readers with carefully chosen product recommendations to improve life at home. You support us through our independently chosen links, many of which earn us a commission.