Man Bun Ken Weighs In On 11 of 2017's Hottest Home Trends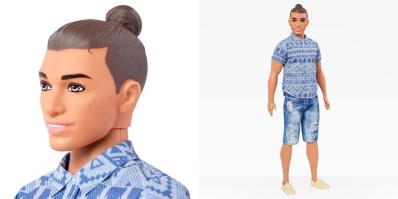 (Image credit: Mattel)
What a time to be alive: Mattel just revealed a makeover for Ken dolls, with 15 new variations on body sizes & hairstyles — including a man bun — and Twitter has gone wild.
To celebrate the addition of a hipster version of the childhood fantasy house-husband, we decided to sit down with Man Bun Ken (aka the new Jordan Catalano) and see what he has to say about these popular 2017 Home Trends.
"My girl boss Barbie keeps it authentic, but I'm really feeling the vintage vibe of the muted version. I mean, real men drink pink, so why should we hate on decorating with it? But, sorry trolls, I'm gonna have to stay Switzerland on choosing between the two."
"Reminds me of the Cross Colors overalls I kicked to middle school dances and early 90s hip hop in general. Dig it for the living room, where I keep all my bootleg rap battle cassettes and vinyl. You know, for impromptu DJ sets when I have Tinder dates over on the weekends. (Spoiler: me and Barb are in an open relationship.)"
"This trend is totally gnar, bruh. Endless Summer is my favorite movie ever, only second to Point Break, but the poster is, like, so incredibly iconic. Make like Keanu, be excellent to each other, and always embrace the neon. Always."
"My parents were big fans of Scandi style before it was cool, and the minimalism of IKEA's small space pieces has always spoken to me. Plus, with vintage IKEA, you know not everyone is going to have the same thing, and buying secondhand is the best form of recycling. I could totally fit most of this stuff assembled in my hand-me-down Land Rover, no problem."
"Finally, the sustainably sourced internet we all deserve! Barb and I try to squeeze every penny's worth out of our Prime membership, and keep our carbon footprint low by biking to WholeFoods with our reusable bags, but it's gonna be so rad to get free kombucha delivery when we're just too beat from hot yoga."
"I'm so down with anything upcycled, and these are genius. Barb and I made a raincoat for our rescue pug out of a Frakta bag and it was the best decision ever. No more sniffles and snoring for the little guy after a trip to the Tompkins Square dog run in the rain! And no shame in that game. Frakta is the new duct tape."
"Less time shopping means more time for making bae avo toast in that new bed and snuggling with our rescue dogs. Maybe now the ugly mattress store on the corner will become the craft beer and ramen shop we've been hoping would come to the neighborhood, finally. All that real estate to sell a single product, when what we really need is more unicycle parking."
She Sheds
"I like to think of myself as an OG feminist, so why shouldn't Barb have her own dedicated space, too? Whether it's crafting or journaling or meditating or entertaining her sheEOs networking group over frosé in her burgeoning media empire shedquarters, it's only fair and equal and balanced that she have a space all of her own to feng shui as she sees fit without me mansplaining her design opinions, you know? Shiplap it up, ladies!"
"My Ayurvedic acupuncturist told me to get some plants to purify the air in our loft, and it has really changed my whole energy level. Plus I got a bunch for free at my neighbor's stoop sale, so everything's coming up Ken. Designed a succulent garden using a Jungalow DIY for Barb for her birthday and it was a real panty-dropper. Dudes out there, take note: get thee to the garden center. Stat."
Shelfies
"When Barb is on tour giving her TED Talks (work hard, stay humble!) I like to throw on some James Taylor and my vintage Nantucket Reds and practice my scrimshaw craftsmanship, which I sell in my Etsy shop in the winter as a side hustle. There's no better way to take a product photo than with a good old-fashioned shelfie of my designs just casually placed amongst the antique nautical curios (from my sea captain grandfather) and thrifted first edition of Moby Dick."
"I started rocking a Man Bun because Jon Snow is my hero, and rustic slab wood definitely channels that authentic vibe from the North, so it sounds like Barb and I need to get out to the wood shop for some DIYs before the show comes back in July and everybody else is doing it. The dream house needs to have not just live edge, but bleeding-edge design, but still feel casual and classic and not overly curated, you know?"
Thanks, Man Bun Ken!