Mandy Moore Got Married in Her Backyard and It Sounds Perfect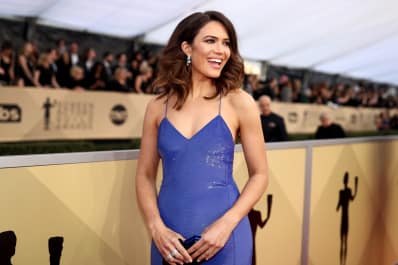 (Image credit: Christopher Polk/Getty Images)
Mandy Moore knows home is where the heart is—that's why the "This is Us" star chose to get married there!
The actress wed her fiance, musician Taylor Goldsmith on Sunday. According to E! News, the fete was "an intimate backyard wedding at Mandy's home that started just after sundown on Sunday evening."
And if we had her backyard, we'd get married there, too. Moore captured our hearts (and our double-taps) by sharing the yearlong renovation process of her mid-century home on her Instagram, which was completed earlier this year and then subsequently featured in Architectural Digest.
After the backyard ceremony, which was attended by around 50 people, the guests headed to The Fig House, a stylish private event space in the Highland Park neighborhood of Los Angeles. Instead of a traditional dinner, guests had options including a "number of food stations around the venue, including meat, chicken, vegetarian, raw food, flat bread, cheese and charcuterie and more." The dessert bucked the typical wedding trend of having one large cake, instead opting for 12 different kinds that guests could pick and choose from.
And yes, there were several famous faces celebrating the nuptials—E! reports that Moore's "This is Us" co-stars Chrissy Metz, Milo Ventimiglia and Sterling K. Brown were present, as well as Mandy's BFF Minka Kelly and ex-boyfriend Wilmer Valderrama.
Mandy previously told the press that she wasn't planning on making her big day into a major event.
"It's not going to be some lavish affair, its maybe something that isn't going to require as much planning or at least that's what I'm telling myself," she previously told E! News. "I picked a funny profession for someone who doesn't like all the attention focused on them so I've already done my girls weekend… Maybe I won't even tell people and they'll just show up at the house and it will just unfold."
The couple, who have been dating for two years, got engaged back in September of 2017. Moore was previously married to musician Ryan Adams.