Green (with) Envy
(Welcome to Manuela, one of the finalists in our Blogger search. She's writing from Seattle. Comment away!)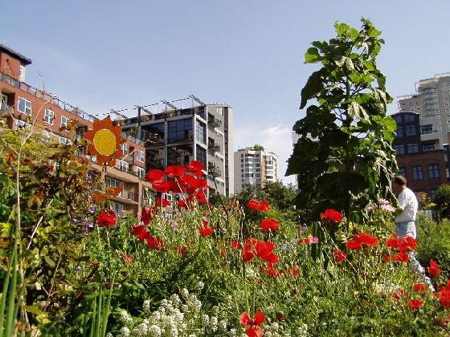 To all AT:SF Blogger Tryout posts
For many, apartment living means no green space to call your own. If you're lucky you have south facing windows or a balcony to cultivate some greenery. With north facing windows, we get by with succulents. But with summer here and Caprese on the brain, we want a little garden more than ever. We recently became savvy to Seattle's P-Patch Program, in which public property is split into (organic) gardening plots for community use. Community gardens create a more livable urban environment, and provide viable gardening options for apartment dwellers.

The term P-Patch is specific to Seattle – The "P" comes from the Picardo's family farm, which contributed to the original P-Patch. However, a little Googling turned up similar programs in other cities, such as Portland and San Francisco.
Depending on where you live and how far you're willing to travel, you might spend a little time on a waiting list. For our top three choices, the wait is 2-3 years. If only we had gotten savvy a little sooner.
Published: Jul 11, 2007