Mariana & Mark's Artistic Melbourne Home
We
independently
select these products—if you buy from one of our links, we may earn a commission. All prices were accurate at the time of publishing.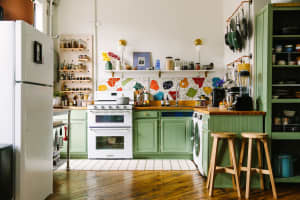 Can't-Miss House Tours Straight to Your Inbox
Keep up with our latest house tours each weekday with our House Tour of the Day newsletter
Name: Mark and Mariana of m2matiz, Josh [20], Madeleine [18], Charley [dog], Friday [cat] and six very generous chickens.
Location: Thornbury, Victoria, Australia
Size: 1,200 square feet
Years lived in: 10 years owned
I've admired Mariana's work since around 2007 when her creative images started to appear in my "flickr" stream (the choice of pre-Instagram hep-cats in the olden days). Soon after, m2matiz was born, incorporating graphic, creative and photographic arts into take-home pieces to love. Mariana and Mark's home, often a muse, often changing, and always evolving, is the kind of place you just want to hang for a while, and so for a while, I did.
As well as a nod to a time of craftsmanship and form in the collections of beautiful furniture, it interests me that Mariana's art is so tangible, so textural. Many of the artworks around the home are of her hand, and she is inspired by nature and the urban environment alike. The effect is both worldy, and very Australian. It is a perfect marriage of organic meets graphic.
Mariana has worked for many years as a graphic designer, and also spent some time studying interior design and decoration. Her home appears effortless, but it is a home many would long for, yet be frustrated trying to mimic the type of ease years of training and an artistic eye can yield.
The light filters through the main living/dining area making beautiful patterns on the walls that feel like fleeting transient artworks. At one stage, I remarked on it, turned away, and lamented on my lost opportunity. The light, the moment was lost — how could I be so foolish?
As well as the home, Mariana also has a studio in her backyard which allows her to keep m2matiz free from the kitchen table of many home-based businesses. Inspired by her beautiful home and surroundings, it is here she makes the art that Melbourne reaches out for.
Apartment Therapy Survey:

My Style: I don't think I have a particular style. Obviously, there are people and styles that I am influenced by, Charles and Ray Eames immediately come to mind, but in the end, you can create your own style. We are constantly told what is in fashion, what to buy and like. The magazines have a job to do, which is to sell product. My husband and I both studied design at school, have been influenced by those learnings and taught to appreciate aesthetic, communication and function.
Inspiration: Post war architecture and design has always had a big impact on me. After years of turmoil and destruction, you can feel the freedom and inspiration in design across the western world during this period. The completion of the war and the technology gained from it, created some truly incredible buildings and products that are still in production today. On the flip side to all this, nature constantly amazes me. The flora and fauna in Australia is a true blessing. We are lucky enough to live in the inner suburbs of a big city, but have the beautiful Merri Creek very close by. We visit it and its surrounds constantly. Spring time is especially inspiring, with the native trees and shrubs blooming and the bird activity, in full swing.
Favorite Element: The flow of our home is fantastic; it's a modest house and our rooms are quite small, but we have a large north facing living area and back yard, which provides a beautiful light and warmth. After 13 years in a house with the opposite orientation, we realise how lucky we are here.
Biggest Challenge: Taking on a major renovation with two young children. Our first major reno, was when the kids were very small, so it didn't seem to have much of an impact. We really felt the disruption the second time around. Budget is also a huge factor in any renovation. I'm not sure if it is human nature to want more than you can afford, but this is something that you will constantly need to keep on top of.
What Friends Say: I think that just about everyone that comes to our home feels something positive. There is lots to look at, and always activity. We love statement houses, but our home is definitely not one of them. The most important thing for us, is that friends and family feel welcome and comfortable.
Biggest Embarrassment: Not being patient and waiting for the builder who did our first renovation. While we're very happy with the spaces in our current home, we're embarrassed by the lack of attention to detail and finish. It was a nightmare renovation.
Proudest DIY: Our back garden's complete transformation. We have a chicken house, a veggie garden and our second living area, come studio, via a shed bungalow. The only earth that has not been turned over in our back yard, is that which is under the garage.
Biggest Indulgence: I would have to say renovating our bathroom for the second time within six years. We were really unhappy with the result the first time round. The tiling was particularly appalling. As the kids were older, we got rid of the bath tub and created a walk-in shower in the same space, with the use of better quality tapware and beautiful large tiles on the walls and floor. We are very happy now.
Best Advice: Don't rush things. Take the time to get to know the space you live in. Find what works and feels right for you.
Dream Sources: For me, I love browsing in shops and markets, you can share ideas and gain knowledge from people who are inspired by the same ideas and principles as yourself. Also, look up prominent Australian architects and find out if houses can be viewed. The Robin Boyd Foundation does amazing work. Personally viewing a beautifully designed space cannot be underestimated. My husband and I keep a close eye on the Melbourne property market and if a post war house comes up for inspection, we are there and it's free. We have been privileged enough to view houses by Peter McIntyre, Robin Boyd, Harry Seidler & Sean Godsell, to name a few. To view and walk through a space, even for a short period of time, that someone has pored a life's study and work to improve the lifestyle of another, is a great source of inspiration.
Ericofon photo on stretched canvas at left of front door by Mariana / m2matiz.
Plywood box shelves made by Mariana's dad, Hugo.
Italian glass light shade from Plasma [now Angelucci's 20th Century].
Mickey Mouse was Mark's as a child.
photographic prints by Dale Doyle, and Mariana / m2matiz
French vintage mannequin used to belong to Mark's paternal grandparents, who were tailors in the 1950's/60's
Sculptural palm bark piece an artwork by Mariana
knitted blanket by Mariana
Componibilli ( for Kartell ) bedside tables
Ericofon phone
Books to be read!
Elcon fan found on the side of the road. It was screaming 'take me home!'
American flag purchased on a USA trip, 2013
Photo of Mariana's parents on their wedding day in Argentina
Cow hides purchased in Argentina
George Nelson bench from Luke Furniture

Snelling armchairs
Eames DCM dining chairs ( Luke Furniture )
Light Shades by Electric Firefly
Plywood box shelves made by Mariana's dad
Eames Group Aluminum Chair ( found in a dumpster, now a treasure! )
George Nelson sofa in chartreuse ( Luke Furniture )
Artwork by Alan Garcia ( Mariana's brother )
Vintage camera collection purchased from markets and vintage stores over the years, but the Coronet belonged to Mark's paternal grandparents.
Stencil on tin purchased from an artist at Rose St markets in Fitzroy
Thanks, Mariana and Mark!
• HOUSE TOUR ARCHIVE: Check out past house tours here.
• Interested in sharing your home with Apartment Therapy? Contact the editors through our House Tour Submission Form.
• Are you a designer/architect/decorator interested in sharing a residential project with Apartment Therapy readers? Contact the editors through our Professional Submission Form.
Updated daily with fresh tours full of photos for you to pin & enjoy!