25 Years Later: Martha Proves Why She's the OG Fixer Upper In This Renovation Series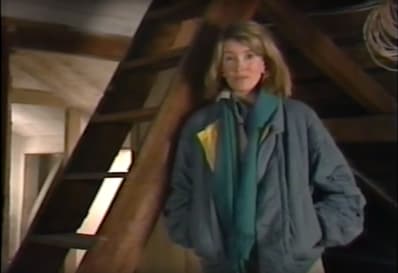 (Image credit: Martha Stewart via YouTube)
Long before Chip and Joanna were fixing up the worst house in the best neighborhood in Waco and documenting one "modern farmhouse" renovation at a time, Martha was painstakingly restoring an actual 19th century farmhouse in Connecticut and documenting the process step by step.
As this recently rediscovered 1993 video series delightfully shows, filmed not far from her own Turkey Hill estate, 90s Martha was building her reputation as a domestic icon brick by brick, gradually growing in finesse like the sanding methods she espouses for restoring historic woodwork — and documenting the entire, painstaking process with both a reality show (recently brought to our attention by Curbed) and companion book of photographs, Martha Stewart's New Old House: Restoration, Renovation, Decoration, Landscaping, copies of which we found are still available from 49 cents on Amazon.
Martha's Renovating with Style was a multi-part domestic DIY documentary and 360-degree content strategy way ahead of its time, but not shocking coming from the woman who literally invented the word "omnimedia." The 55-minute introductory video is followed by subsequent videos designed as deeper dives into each room of the house or category of restoration techniques.
(Image credit: Martha Stewart via YouTube)
Channeling the best parts of This Old House and literal centuries worth of women's self-reliance guides, Martha glides through construction zones and workshops with a grace and restrained charisma only she could muster, pointing out historic craftsmanship and antiquated construction methods with genuine awe and admiration — and a level of masterful engagement that almost makes us forget just how 90s the fashion and furnishings are — while seamlessly coordinating a team of more than two dozen contractors, subcontractors, and designers.
But, Martha being Martha, there were so many DIY tips and decorating ideas that would be Pinterest gold even now, like the trompe l'oeil painted-on stair runners and Turkish rugs, as well as the stair risers covered in copper leaf (all detailed in the second video in the series, Decorative Finishes). And Martha's soft, signature, empowering encouragement make these YouTube clips worthy of the investment of your time, because the tips and techniques are timeless even if the styling is not. Or, as TIME once wrote:
Stewart is one of the very few people in the world whose name stands for a whole way of life; a way of life which, it could be argued, overlapped with the American upper-middle class for a good stretch of the '90s and early aughts.
Here's the episode in its entirety:
Apartment Therapy supports our readers with carefully chosen product recommendations to improve life at home. You support us through our independently chosen links, many of which earn us a commission.