Masha & Colin's Worldly Abode
We independently select these products—if you buy from one of our links, we may earn a commission. All prices were accurate at the time of publishing.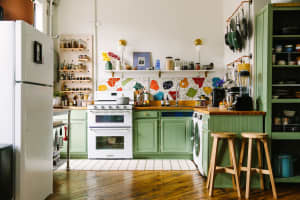 Can't-Miss House Tours Straight to Your Inbox
Keep up with our latest house tours each weekday with our House Tour of the Day newsletter
Name: Masha D'yans and Colin Mulligan
Location: Highland Longwood — Los Angeles, California
Size: 1,412 square feet
Years lived in: 1 year; Owned
Masha, originally from St. Petersburg, Russia, and Colin, originally from St. Louis, have been married for just over one year, in which time they've created a beautiful and unique home full of international curiosities. Showcasing an array of treasures, from Eames furniture to vintage Geisha fans, the home represents a collection of real life experiences that the couple has enjoyed.
Masha, a greeting card and picture book artist and product designer, spends most of her time in the gorgeous, light-filled studio/guest room, while Colin, a former teacher and vice principal, now works as a model and writer. They are lovers of art and all things eclectic, and their home is full of art pieces, antiques, and DIY projects (many by Masha's extremely talented mother and grandmother). The building itself is a marvel as well, having been featured in Deco & Streamline Architecture in LA and Apartment Therapy once before!
The tour begins in living room and office combination, complete with sprawling windows and cow skin rug, and continues to the cozy kitchen with a Wedgewood stove, quirky vintage tools and beautiful plants — plus the best French-pressed mint tea you'll ever taste! We then meander upstairs to Masha's studio and then travel through the bedroom, where the evidence of Masha's love for high fashion is housed in large DIY closets.
Enjoy your trip through their worldly abode!
Apartment Therapy Survey:
Our Style: What do you call an intuitive mix of scavenger chic, boho, craft, industrial bits, Japan, mid-century modern, and hints of French countryside with lots of DIY, natural curios and travel mementos? All we know is that we can't stay away from anything high, low or reclaimed that looks like it belongs with us. Let's just say we're as comfortable trolling the back alleys of Hancock Park, or a roadside on the way to Joshua Tree, as we are checking out fancy showrooms. Collecting or making what we like and then arranging and attaching things together in a fun but practical way is much like working on a painting. Masha comes from a nomadic family of artists and scientists with an avid eye for style and a fashion obsession and Colin has traveled the world, so both of us are naturally curious, excitable observers and collectors. Also, as in all functional partnerships, it's important to note that Colin's chill nature and affinity for eastern philosophy and art makes him readily agreeable to Masha's relentless design experiments.
Inspiration: We are always inspired by nature, Japanese interiors, contrasts, the balance of objects and negative space and irreverence, as well as our family and travel. Luckily the architecture of this streamlined modern duplex fits right into our tastes, and proved to be the biggest influence. Built in 1932, it offers beautiful proportions and a well-lit, neutral canvas to work with. We both felt an immediate connection to the space; it seemed to call for keeping the lines of the furniture low and horizontal, leaving large expanses of wall and windows open. The building also set the theme of horizontal rectangles (found in the beautiful window frames) and circles (of the port-hole windows and the original built-in chandelier). We found ourselves repeating these proportions throughout. We love that the high ceilings and loft-like windows give the duplex an urban feel, even though it's situated on a nice quiet corner. After living in NYC, it was important to both of us not to feel like we were moving to the boonies.
Favorite Element: Without a doubt, it's the giant corner window in the living room (now an office corner!) and the magical Magnolia tree in front of it. After lengthy deliberation and strenuous furniture repositioning, we decided to put the work desk right there so we could spend as much time as possible looking at that tree and listening to the songbirds that visit. In late January, it explodes into bloom and the effect is so shockingly beautiful (to us northerners, at least) that we can't tear ourselves away from work. Last January-February was our most productive ever! In general, this house has amazing light, and the impact was immediate for us when we came to the open house. One of our favorite things about living in the concrete canyons of NYC was the beautiful sunsets we could see over the Hudson River. Because our biggest windows face west, we are now lucky to have even more of the golden hour magic beaming into our lives.
Biggest Challenge: We needed a space that could fit it all; office, art and recording studios, functional living areas, storage and more storage, and a dance floor, naturally. Like most houses in the world, this one didn't come with all of these functions in mind, so we had to carve out distinct, if small, areas for different purposes, partly because we're lazy commuters. It was a challenge to make it all look like it belonged right there and in concert with the rest of the house. The master bedroom, for instance, is so light-filled and open, the goal was to still keep that serene vacation vibe while dedicating some of it to a large additional closet space. It became Masha's humble homage to the grand Hollywood-style dressing rooms. We kept the built-in vanity area as the beauty station, adding rows of necklaces collected through world travels and flea market-hopping as an element of design over the existing mirror. Colin says he likes laying in bed and looking at them, despite being a tough ex-football player, but he wants a trophy corner eventually! Throughout the process of putting our house together we were naturally worried about living up to the standards that our fashionable tenants had established before we moved in. Their beautiful apartment was featured on Apartment Therapy and became a great selling point during the open house.
What Friends Say: Wait, you have a fireplace?! Which one's my room?
Biggest Embarrassment: It's a tossup. On the one hand, our morning commute is often only a flight of stairs, thus there's a tendency to arrive to the corner office in a less than impeccable state of dress… The neighbors can totally see! There was also a fun incident of not being able to get our Modernica king bed through the door. It involved hoisting.
Proudest DIY: There are so many! Topping the list are the additional closets we designed and built in the master bedroom to house Masha's epic fashion collection. It was a challenging space-saving problem to solve aesthetically while preserving the flow and vibe of the room. We ended up concealing an open rail system behind natural grass screen panels in the style of tatami mats. Masha also upgraded a simple customized IKEA cabinet with beautiful 60's wallpaper (it took 5 different wallpaper purchases before zeroing in on something that really worked) and used vintage silk tassels as handles. At this point Masha became a bit obsessed with tassels and bringing something soft but monumental to the bedroom. Not being able to find just the right wall piece in stores or online, we turned to Masha's incredibly talented artist mom to help create the great, long, textured tapestry that now hangs over the bed. The piece was made from salvaged materials as well as pieces knit by Masha's grandmother. It was a project that united generations of our family across the land. By then Masha and her mom felt unstoppable and went on to make a few more fiber art pieces for the house. Of note are the tassel piece over the dressing mirror, the bedroom curtains collaged from vintage doilies, and the woven coffee table 'saddle bags' for books/magazines.
Biggest Indulgence: We've kept it pretty real and stayed away from extravagant expenses, bringing our most valuable furniture from NY. After the trauma of a cross-country move and the house-buying process, we were happy not to tackle big renovation projects. We tried to leave as much of the house as it was, and work with and around what it had. Aside from some unforeseen repairs, the biggest indulgence was the custom closets. We also had to get a very nice modern fan for the bedroom and a slick black faucet for the kitchen, which immediately made the black 80's marble countertops look more intentional and timeless.
Best Advice: Start with a well-lit space.The rest is easy if you're willing to ignore the rules, be creative and patient. Great interiors come together over time. We also find that groupings of things look best when balanced with empty or minimal areas.
Dream Sources: Kyoto, London Museum of Natural History, The Gamble House in Pasadena, anything Case Study, Modernica, international flea markets.
All as bought with the house – mostly gallery white.
ENTRY
• antique brass horse head mounted over door • embroidered portrait of Masha and her dad, Galina Sokolova circa 1979 • tree etching, Berrie McDonald • Umbra sticks coat racks hung in a row • small tapestry with tassels, Galina Sokolova
LIVING ROOM
• Various artwork: antique, Galina Sokolova, Alexander Zadorin • Ron wall sculpture with coral: Masha D'yans • Floor lamp shade: Galina Sokolova • Antique Tansu dressers • Nesso lamp: Artemide • Eames lounge chair in walnut and bone leather • Eames LCW bentwood chair • 50's walnut coffee table with storage • DIY table runner with saddle bags for books and magazines assembled from vintage ethnic tapestries, Masha D'yans • Modernica Case Study Day Bed Couch • Knit throw, Irene Reshet (Masha's grandmother) • Vintage Serape blankets • Black Martin Les Paul electric guitar • Vintage wood slab side table • Wall opposite of fireplace serves as screen for projecting movies
OFFICE
• Southern Aluminum folding table • Laurel table lamp • Eames rolling shell chair • Cherry blossom throw pillow, Masha D'yans for Urban Outfitters • Aeron Chair, Herman Miller • Lacquer with brass trim Wardrobe and Chest/Cabinet from the Far East Collection for Baker Furniture, 1948
DINING ROOM
• Modernica Tenon table and benches in rosewood • DIY cushions made from found needlepoint pieces • Eames LaFonda chairs, 1961 • Birds embroidery, Galina Sokolova • Modernica Case Study storage unit with acrylic and grass sliding doors • Heath ceramics (inside) • Nylon strings lamp, 1970's • Vintage longhorns wrapped in yarn, Masha D'yans • CB2 metal shelf with ceramics, antiques, toys and curios • Antique japanese boxes, plant and driftwood assemblages
KITCHEN
• Wedgewood stove • Brizo black faucet • DIY edison hanging light • Collection of vintage iron pieces on wall • Antique green glass and brass banker lamp • Various jadeite glass • Dansk pots
BEDROOM
• Modernica Case Study bed • Modernica Case Study side table • Antique Japanese storage boxes • Antique Kilim Afghan rug • Tapestry over bed, D'yans Sokolova • Tapestry over mirror, D'yans Sokolova • Night lamp shade, Galina Sokolova • Vintage and DIY throw pillows, D'yans Sokolova • Midcentury mirror vanity box • 2 Knoll white round storage units • Vintage kitchen folding stepping stool • Mid-century lucite rolling stool • Ibanez nylon string guitar • Vintage crochet bed cover • Gucci wool throw • Doily assemblage curtains, D'yans Sokolova • Prada corset over paint in frame, Masha D'yans • Cirrus Hugger Fan
DIY pitched roof metal book shelf, Masha D'yans



GUEST ROOM
• Paintings and cards, Masha D'yans • Built in storage • Mid-century white stool • Vintage lamps


STAIRS/HALLWAY
• Various signed posters: Milton Glaser (Masha's professor), Lou Dorfsman (Masha's professor, mentor and friend), Paul Rand, Chiho Aoshima, Neil Fujita • Various art and family photos: including a real geisha's calling card fan from Kyoto, antique prints, Galina Sokolova, Masha D'yans etc. • Antique Kilim runner


• HOUSE TOUR ARCHIVE: Check out past house tours here.
• Interested in sharing your home with Apartment Therapy? Contact the editors through our House Tour Submission Form.
• Are you a designer/architect/decorator interested in sharing a residential project with Apartment Therapy readers? Contact the editors through our Professional Submission Form.
Updated daily with fresh tours full of photos for you to pin & enjoy!
Re-edited from a tour originally published May 2014