The Highly Giftable Kitchen Set I'm Getting Everyone This Year
We
independently
select these products—if you buy from one of our links, we may earn a commission. All prices were accurate at the time of publishing.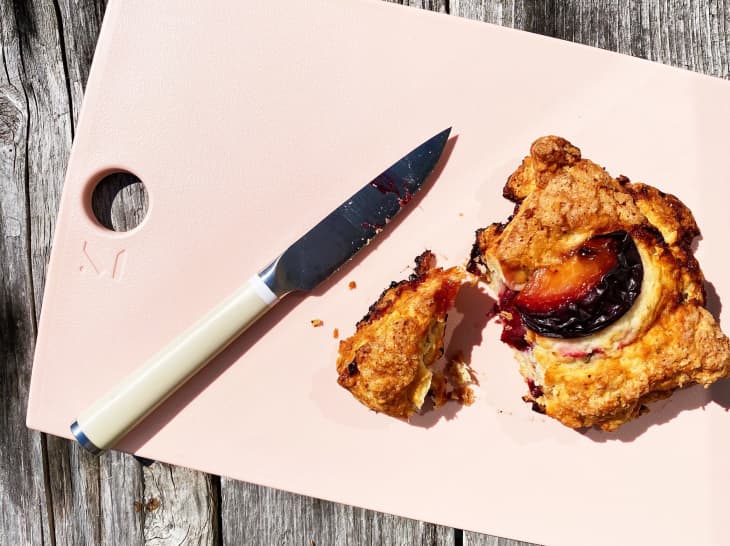 I'm not what you would call a great gift-giver. Every year the holidays creep up on me, I scramble to not-so-stealthily figure out what everyone wants, and then I pay an exorbitant amount on shipping to make sure it all arrives on time. Despite knowing this is my pattern, I haven't been able to kick it. This year, though, I am going to change that.
The $65 set includes one of Material's mini reBoard cutting boards and their Almost 4″ Knife. The mini reBoard is a new offering from Material—it's just a (25 percent) smaller version of their super popular reBoard, made from dishwasher-safe recycled plastic and sugarcane. The Almost 4″ Knife is a paring knife made of three layers of Japanese steel with a razor-sharp edge and super-comfy grip.
The Snack Set is offered in various color combinations, so you can tailor your pick to your loved one's style. The cutting board comes in Midnight, an inky-blue; Pink Salt, a perfect millennial pink; and Moss, a muted seafoam green. You can also select the handle color of the knife: Almost Black, Cool Neutral, or Blue Grey.
The Gift That Works for Everyone (No, Seriously — Everyone)
Sometimes gifting kitchen gear is a gamble—maybe the recipient is living in a tiny apartment with limited space, or maybe they're not that confident in the kitchen—but the small footprint of this mini set means it won't be a burdensome item to store. And whether you're giving this set to someone who is an avid home cook or someone who just wants to cut up a few limes because their culinary prowess extends only to making margaritas, I promise it will come in handy to anyone regardless of skill.
I got myself a set, of course (another reason I'm not a great gift-giver is because I end up just wanting to buy everything for myself!), and I continuously marvel at how beautiful it is whenever I pull it out. (I chose the Pink Salt/Cool Neutral combination.) My daily sliced apple and cheddar snack has gotten way more chic, and now—with fresh summer tomatoes at their best—I'm also using it to whip up a quick caprese salad multiple times a week. I also see lots of chopped chocolate happening on this board for homemade chocolate chip cookies in the future.
Material also just added a limited-time version of the Snack Set, called the Tahini Set. For just $5 more, you can send a friend a 16-ounce jar of Seed + Mill tahini along with the cutting board and knife. This feels like a complete no-brainer to me. Remember those aforementioned chocolate chip cookies? Yeah, they'd be even better with some tahini.