Meg & Andy's Radical Possibilities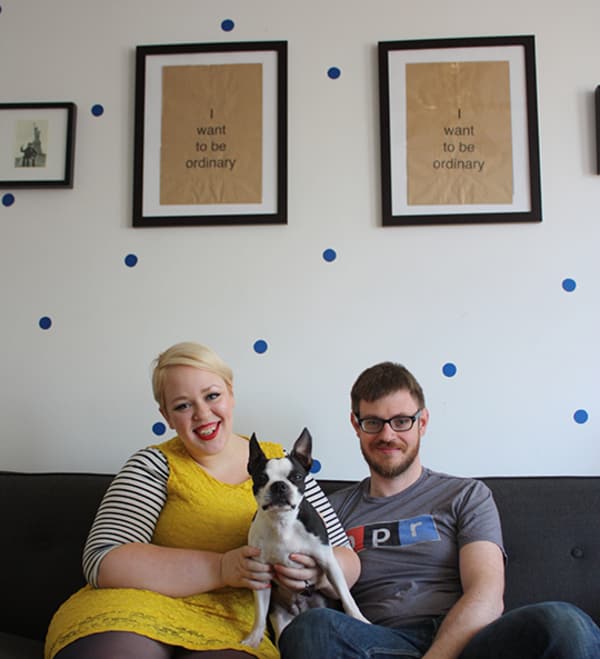 Name: Meg Zandi, Andy Green, and Lucille Austero
Location: Logan Square; Chicago, IL
Size: 800 square feet
Years lived in: 1 year; rented
If there's a principle that has been proven time and time again, it's the idea that with constraint comes creativity. Whether it's a small space, a tight budget, or the limits of a rental, restrictions can lead to the most innovative, personal solutions. Meg and Andy, working under all three of those limitations, offer yet more proof of this principle, and by keeping a positive attitude and seeing the radical possibilities of their space, they've managed to build an imaginative, resourceful, and intimate home.
Impressively, everything in Meg and Andy's apartment has been purchased for a song: Craigslist, resale shops, flea markets, and furniture liquidators are among their most common sources. The creative application of paint, duct tape dots, and art collected from budget sources or created using affordable materials, gives the apartment a warm, fun, and welcoming atmosphere. Instead of being limited by the dated fixtures and finishes of their old-school Chicago apartment, Meg and Andy worked with the vintage feel, crafting a character-filled space that seamlessly blends antique furniture, modern art, and quirky, curious objects.
Meg and Andy are, to put it plain and simply, cool. They are the types of people with whom you want to grab a beer, share music, watch movies, and spend hours chatting. When I met Meg, she was wearing a vibrant yellow dress and equally vibrant red lipstick, and her smile lit up the room. Andy, a serious music lover, was affable and easy-going, and Lucille Austero, their adorable rescue dog (named after Liza Minnelli's character on Arrested Development), was eager to cuddle. This ease, warmth, and relatability clearly shines through in their home. An extra-long dinner table, frequently filled with friends and laughter, greets you as soon as you walk in the door, as does a cheery "Hello" sign. Cozy seating, lush plants, and bright colors make the apartment instantly inviting, and I can easily imagine marathon conversation sessions or warm nights spent listening to records and drinking cocktails.
There's nothing false or put-on about Meg, Andy, or their home. For instance, for the house tour, they opted to leave out Andy's bicycle and Lucille's dog crate (covered with a sheepskin and converted into a makeshift side table) instead of hiding them from the camera. In Meg's words, "Those things are a part of our lives. It wouldn't really be a tour of our place if we hid everything that we actually use and staged it like a model home." Additionally, a blog named after a Bikini Kill lyric, a riot-grrrl sign, other feminist art betrays their deeply held social and political leanings, and a dedication to living with things that have personal meaning.
Taken together, all these creative expressions, meaningful moments, and a commitment to having a guest-friendly space show that Meg and Andy have truly figured out how to live large, even in a small home.
Apartment Therapy Survey:
Our Style: We try to do vintage without being too kitschy, just because once I let myself down that path, every weird, creepy thing from the thrift store comes home with me. We just try to do eclectic and cozy on a tight budget.
Inspiration: I really love the look of warm, cozy, lived-in homes, where your guests don't think twice about putting up their feet and its no big deal if someone spills a drink at a party.
Favorite Element: I love our bay windows and how much light they let in, and I really like the archway separating our dining area from our living room.
Biggest Challenge: The rooms are very narrow, which meant having to swap out some larger pieces of furniture for ones that were either slimmer or could completely fold up! Also, we've both moved a lot over the past few years, so we started out with nearly nothing and have had to start from scratch.
What Friends Say: "Where is Lucille? And oh, hey you guys too."
Biggest Embarrassment: As is often the case with very inexpensive rentals, there is a lot that needs to be updated, like the mismatched wood trim, the outdated fixtures, or the patchy drywall.
Proudest DIY: It was really easy, but I love the pipe clothing rack in the guest room. Or maybe the big "Hello" when you walk in the door.
Biggest Indulgence: I wish we had one! We only own one thing in the apartment that cost more than $100 (our couch, which is still an inexpensive Craigslist find), so we're still a few years away from indulgences. Sometimes it feels frustrating, sometimes it feels inspiring!
Best Advice: Love your home, even when it is not your dream home. Accept that sometimes along the way, you'll have to live in relatively crappy apartments, but don't let that be an excuse to not put time and effort into them. Just because all your attempts won't be perfect, or you're limited by the terms of your lease, or things aren't instantly magazine-worthy, doesn't mean you should stop trying. It means you should keep trying!
Dream Sources: Randolph Street Market, Reform Objects, Woolly Mammoth, DepARTment Furniture Chicago. Basically just an unlimited budget at the places I already love. Oh, or a Craigslist that had all the crap pre-weeded out, that's my true dream.
Resources:
ENTRY
Rug: gift from a friend in Abu Dhabi
Dresser: Brown Elephant
Flower print: Staples engineering print
Rental Sweet Rental: drawn by Meg
Deer head: Target
Wooden mirror: built by Meg in a workshop at Rebuilding Exchange
LIVING ROOM
Gold chairs: Village Discount Outlet
Coffee table: Craigslist
Sofa: Craigslist
Record table: Craigslist
Rug: IKEA
Record player credenza: New Elephant Resale Shop
White side table: Windy City Hotel Furniture Liquidators, updated with some paint
KITCHEN
Wooden table: Windy City Hotel Furniture Liquidators
Birdcage: Logan Square Farmer's Market
Framed photos above stove: Erin Tyner Photography
Kitchen cart: Craigslist, repainted
OFFICE
Desk: Craigslist
Bookshelf: IKEA via Craigslist
BEDROOM
Calendar: Stendig
Dresser: Craigslist
Bedspread: Urban Outfitters
GUEST BEDROOM
Bed: Craigslist
Duvet: IKEA
Pillows: handmade
Hanging plant poster: IKEA
Chair: Craigslist
Framed print: Urban Outfitters
OTHER SOURCES OF NOTE
Christina Della Morte Ceramics
Unicorn Parade
Erin Tyner Photography
Thanks, Meg & Andy!
(Images: Carolyn Purnell)
• HOUSE TOUR ARCHIVE: Check out past house tours here.
• Interested in sharing your home with Apartment Therapy? Contact the editors through our House Tour Submission Form.
• Are you a designer/architect/decorator interested in sharing a residential project with Apartment Therapy readers? Contact the editors through our Professional Submission Form.
Re-edited from a post originally published 5.13.2013 - AB
Apartment Therapy supports our readers with carefully chosen product recommendations to improve life at home. You support us through our independently chosen links, many of which earn us a commission.