Peek Inside the Chic Farmhouse Where Meghan Markle Had Her Bachelorette Weekend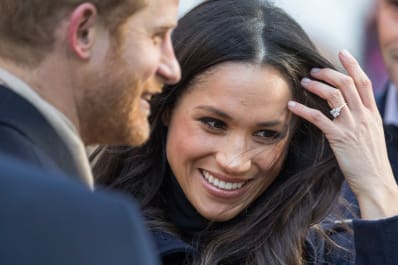 (Image credit: Christopher Furlong/Getty Images)
Forget stretch Hummers and strippers in Vegas. In honor of her upcoming nuptials to Prince Harry, Meghan Markle celebrated with a spa-themed bridal shower this past weekend. Here's what we know about the festivities in Meghan's honor:
The venue
According to US Weekly, the soon-to-be bride's shower was held at Soho Farmhouse, the ritzy, members-only vacation destination located on a 100-acre spread in the Oxfordshire countryside. (Harry and Meghan are frequent visitors to the spot.) Now, before you start to imagine Meghan and her girlfriends tossing bales of hay and milking cows, let's make it clear that this isn't that kind of farm. While it does have a beautiful rustic aesthetic, it's much more Martha Stewart than the Pioneer Woman. Soho Farmhouse features a beautiful restaurant in the Main Barn, a sprawling area complete with exposed brick and towering ceilings. There's also the Boat House, with an indoor/outdoor pool on a lake, a lavish movie theater called the Electric Barn Cinema, and Pen Yen, a Japanese sushi grill.
The guest list
The shower was planned for Meghan by her friend Markus Anderson, who works for Soho House as a sales consultant, US reported. Also present were designer Misha Nonoo, Pilates Platinum founder Heather Dorak, and good friend Lindsay Jill Roth, according to E!.
"It's just a relaxing day of good food and pampering," a source told E!.
Not present for the festivities were two important wedding guests: Meghan's mother, Doria Ragland, and Patron Saint of Shiny Hair Kate Middleton, Vanity Fair reports. But since a variety of other pre-wedding celebrations are certainly on tap, we're guessing those two will be around soon.
And if you're wondering where grandma-in-law Queen Elizabeth II is, Meghan is set to make her first official appearance with her majesty later this month during Commonwealth Day at London's Westminster Abbey. Let's hope Meghan likes Corgis!