I Watched Both of Meghan Markle's Hallmark Movies, and This One Is The Clear Winner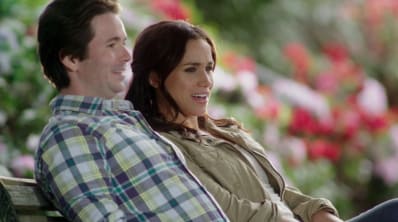 (Image credit: Hallmark Channel)
You already knew Meghan Markle is famous for her role in Suits, but did you know she also starred in not one, but two, Hallmark Channel movies? While sadly neither takes place around the holidays, 2014's When Sparks Fly and last year's Dater's Handbook are both available to rent on Amazon for when you need something to watch with your family this month. You don't need to pay too close attention, because I already watched them for you. They're pretty predictable, but still – some spoilers follow.
(Image credit: Hallmark Channel)
While the production quality of this one is the better of the two, that makes it slightly less fun to watch. Markle plays Cass, a Denver woman who owns her own marketing company and yet has been dating a meathead bartender for the last two years. Since her boyfriend fails to remember her food allergy and thinks letting Cass watch him swing at the batting cage is a rad night out, she dumps him.
(Image credit: Hallmark Channel)
She starts dating two different dudes instead, basing her choices on a self-help book called Dater's Handbook. She has to pick between a vaguely rude stiff with money but no personality, or a fun parks and recreation department employee who can roll with her punches. One is all art galleries and champagne, and the other is more putt putt golf and Coors. The one who gets the most screen time and surprises her mom with REO Speedwagon tickets wins, and I think you know where the movie is going with this.
I like that much of the movie is just Cass hanging out with her cool mom and super judgemental sister, but even then, this movie fails the Bechdel Test because they only ever talk about Cass's two boyfriends.
(Image credit: Hallmark Channel)
If you're going to rent one of these two movies to watch with a group during the holidays, make it this one. Markle plays Amy, a reporter from Lakeside, WA who leaves her hometown boyfriend, Hank, for a job at the fictional Chicago Post. Fast-forward to seven years later, she's still there, but is now dating Phil. Phil appears to be a finance bro never seen without a suit, and yet somehow this man comes out of the movie looking better than anyone.
Amy is a terrible friend who cuts off her hometown BFF Sammie when Sammie calls with her good news, because Amy is running late or whatever. When Sammie finally has her attention, she breaks the news to Amy that she is marrying Hank, the man Amy has not dated for nearly a decade. This triggers the whole, "fly back home so you can be my maid of honor even though you're uncomfortable with it, and also help me plan my wedding in seven days" plot. Amy is also supposed to write an article about her firework-crazed parents during this visit, but this is a storyline nobody cares about. It is wild that she cons a print media company into essentially paying for her flight home for a wedding.
(Image credit: Hallmark Channel)
I do not like Amy for many reasons, but mostly because she drives to work in the Loop instead of taking the train. Also I am very jealous of her job. Amy has lived in Chicago for seven years and yet has not made any friends. Her "work friend" straight-up loathes her. Amy constantly judges Sammie's eclectic taste behind her back. However, I think Sammie is the unsung hero of this movie because she is saving so much money by picking red, white, and blue as her colors for an outdoor wedding in a town where it is known that literally everyone loves the Fourth of July. Smart!
This movie is like if My Best Friend's Wedding were taken out of Chicago and planted in Washington state, but also if the ending had gone horribly wrong. Plus, its moral seems to be, absolutely do not follow your dreams and move to another city because you will just live a life full of regret. Still, it's worth watching just to see a future American princess stuffed into a wedding dress made of toilet paper and eating BBQ, just like the rest of us plebes at bridal showers we don't want to attend.
Rent them both on Amazon.
Apartment Therapy supports our readers with carefully chosen product recommendations to improve life at home. You support us through our independently chosen links, many of which earn us a commission.