Live Out Your Childhood Dream of Being a Mermaid with This Airbnb Experience
We independently select these products—if you buy from one of our links, we may earn a commission. All prices were accurate at the time of publishing.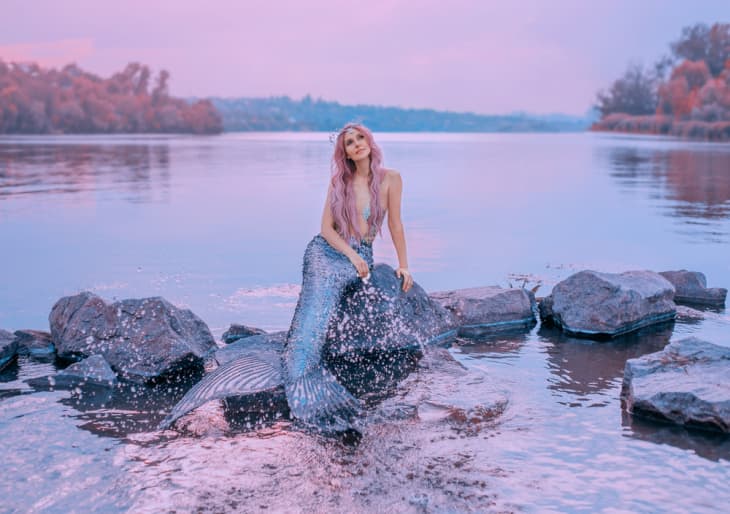 Follow Topics for more like this
Follow for more stories like this
Shannon Subers hosts an Airbnb Experience called "Play Mermaid for the Day in San Diego," and it definitely lives up to its name. Subers will meet you at the beach and give you a mini mermaid makeover, which includes a colorful top and tail, jewelry, a bedazzled mermaid makeup look, and a shell hair clip that you can keep. Once you look the part, she'll help you develop a mermaid personality, give you posing tips, and coach you through a 30-minute sunset photo shoot, suggesting poses that will help you live your best mermaid life. A few days later, she'll send you 10-15 edited pictures of your best shots, which you can post on Instagram to inform the world that you're officially a mermaid.
How does Subers know so much about mermaiding? As she told SD Voyager in 2018, she's been part of the mermaiding community for years, participating in photo shoots and volunteering at charity events. She loved the hobby so much, she wanted to make it more accessible to others. She applied to host an Airbnb Experience and the rest was history. Now, her mermaiding expertise is in high demand.
Subers' Airbnb Experience has nearly 40 reviews, and they're all overwhelmingly positive. People mention that she's friendly, welcoming, and instantly makes you feel comfortable in front of the camera even if you're shy. Promoting body positivity and empowering people to feel comfortable in their own skin is exactly what Subers wants people to take away from her mermaiding experience.
"Positive self-image is something I've struggled with for most of my life, but the mermaiding community was very accepting of me, no matter my size," Subers told SD Voyager in 2018. "I realized that I didn't have to be afraid to wear a two-piece swimsuit. Kids that saw a mermaid on the beach didn't care what I size I was, they just saw me for the magical creature I was performing. I want to share that with other people—mermaids can be any shape, size, or skin tone and be just as majestic!"
If you'll be in the San Diego area and want to become a mermaid for a day, book your experience now. Availability is pretty limited, but Subers mentions that you can message her on Airbnb to check availability for dates and times not listed or if you want to book a large group. Then sit back, relax, and live your childhood dream of being a mermaid.