HBO Just Announced Meryl Streep Is Joining the Cast of Big Little Lies Season 2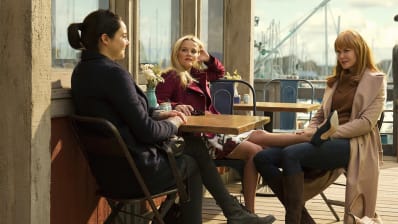 (Image credit: HBO)
Big Little Lies fans, I hope you're sitting down. There's huge news from HBO today about a new cast member joining the show. A few hints: She holds the record for total Academy Award nominations, she's a national treasure, and her name rhymes with Beryl Breep. (Season one spoilers follow.)
Meryl Streep is coming to Monterey! MERYL (expletive) STREEP!
From Deadline:
Streep will play Mary Louise Wright, the mother of Perry (played by Alexander Skarsgard in Season 1). Concerned for the well-being of her grandchildren following her son Perry's death, Mary Louise arrives in Monterey searching for answers.
The show, originally conceived as a limited run series based on the novel by Liane Moriarty, was greenlit for a second, seven-episode season at the end of last year. This is the first big casting news about the new season since HBO's December announcement, which confirmed that Nicole Kidman and Reese Witherspoon are returning.
We have so many questions, namely, will Meryl get her own fabulous beach house? Or will she be staying with Nicole and kids in that expansive manse? Or has Nicole permanently moved into her little beachside condo? Will we get flashbacks into Perry's childhood? Is Meryl saying she's there for the kids but really on the hunt for who killed her son?
Production doesn't start until March, so we likely won't find out until the end of the year or (gulp) even 2019.