Michael's Stylish Bed-Stuy Collaboration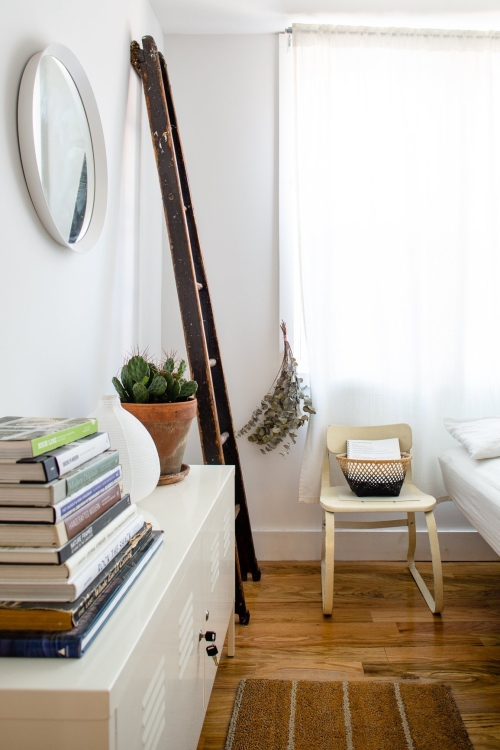 (Image credit: Pablo Enriquez)
Name: Michael
Location: Bed-Stuy; Brooklyn, NY
Size: 630 square feet (1400 square feet with backyard)
Years lived in: 1 years in apartment; 4 years in the same building; rented
Years Hosting on Airbnb: 1 Year
Michael is an architect and a designer, and you can tell the minute you walk in the door. Down to the hidden stitching on his collaboratively designed couch, everything in his Brooklyn apartment is hand-sewn, stylish and welcoming.
He has lived in different apartments in the same building for four years. Last year, when he made the transition downstairs to a bigger apartment with a yard, he started to think about the possibility of having a roommate. With an extra bedroom, outdoor space, and a working/creative nook, he decided to try renting his extra apartment through Airbnb while he looked for the perfect roommate.
What he found, however, was that the "temporary roommate-ness" of using Airbnb fit his lifestyle perfectly. The aesthetic of his apartment tends to draw like-minded artists and architects from across the world, and he enjoys meeting fellow craftsmen and giving them a temporary home to explore the city from. His two cats, Fox and Badger (and yes, they have a hashtag on insta: #foxandbadger), have become more social, and his up-and-coming neighborhood is thrilled when he sends newcomers to little restaurants and shops that you can't find in the guidebooks.
As someone who derives joy from choosing "just the right color white" - and surrounding himself with art (literally - his bed is made out of flat files filled with art that hasn't made it onto the walls yet), Michael has created a space that reflects his passion for great design. It's calming and inspiring, and makes us want to preserve a slice of pizza in resin (watch the video to see what we mean!). We're so glad he decided to share it!
(Image credit: Pablo Enriquez)
Apartment Therapy Survey:
My Style: Modern, Warm, Utilitarian, Crafted, Mixed-Media
Inspiration: Alvar Aalto, Hans Wegner, Shakers, Roald Dahl, my Grandma.
How/Why Did You Decide To Host on Airbnb? I started hosting as a stop-gap while looking for a roommate. It worked out unexpectedly well and I never looked back.
Do you rent out a shared room, private room, or your entire home/apartment? A private room in a 2-bedroom apartment.
Favorite Element: Living amongst plants, books, art, and design objects.
Biggest Challenge: Fitting all the chairs I like into the space. BTW, I've failed.
Proudest DIY: Collaboration on the living room daybed with designer Pat Kim.
How long have you been hosting? Approximately one year.
What kind of guests have you had? Any you keep in touch with? The majority of my guests have been artists, designers, or architects – like-minded people. Many have been from overseas. Yes, I have kept in touch with several and have to plan a few trips soon :)
Biggest Embarrassment: Cat hair! (I'm trying, really)
Biggest Indulgence: A really nice ModKat litter box.
When do you host? I host whenever possible. Since starting, I have been fully booked up most days.
Would you recommend others to host on Airbnb? Why? Yes, definitely! It has only been good experiences.
Have you ever been an Airbnb guest? If so, where? Yes! I've been a guest in a house in Montauk and an amazing little pop-up camper in Austin, TX.
What is your hosting style? How do you interact with your guests? I normally assess what the guests would like within a few minutes of meeting them. I am very social myself, but am happy to give guests privacy if they need it.
What has been the most surprising thing about being an Airbnb host? How consistently great the guests have been. I consistently have new people to grab drinks with on weekdays.
What have you done with your funds from hosting? Diamonds!!! Actually, normally just put the money towards rent.
Best Advice: Surround yourself with things that inspire you. Burn everything that doesn't in your fire pit.
Dream Sources: My friends who are furniture/product designers. Living the dream :)
Find out more about becoming an Airbnb host!
Resources
(Image credit: Pablo Enriquez)
ENTRY
Keyrings: Various Keytags
Mugs: Recreation Center
Candles: Pelle
Dishes: Souda
Fishermen's Knife: Garrett Wade
Wood Box: Hancock, Massachusetts Shaker Community
Soap: Saipua
Button: Angela Cherry
(Image credit: Pablo Enriquez)
LIVING ROOM
Daybed: Pat Kim and Michael Yarinsky
Lounge Chair: Jens Risom
Rocking Chair: Charles Eames
Side Chair: Harry Bertoia
Triangular Side Table: Fort Standard
Stool: Souda
Coffee Table: Found and Restored
Ink Drawings: Anthony Cudahy
Etching: Georgia Staples
Screenprint: Brad Ewing
Standing Bowl: Fort Standard
Coasters: Chen Chen and Kai Williams
Blanket: Kiosk
(Image credit: Pablo Enriquez)
DINING ROOM & KITCHEN
Dining Chairs: Folke Palsson
Dining Table: Found and Restored
Resin-Encased Pizza: Steph Mantis
Ink Drawing: Anthony Cudahy
Bottle Openers: Brendan Ravenhill
Butt Magnets: Steph Mantis
Wall Hooks: Pat Kim
Salt Dish: In.sek Design
Espresso Maker: Aldo Rossi
Coffee Maker: Chemex
Teapot: Hario
(Image credit: Pablo Enriquez)
BEDROOM
Chandelier: Lindsey Adelman
Bed: Repurposed Cole Steel Flat Storage File
Chair: Hancock, Massachusetts Shaker Community
Reading light: Schoolhouse Electric
Wall Clock: Jasper Morrison for Muji
Knitted Pillow: DittoHouse
Screen Print: Estelle Yarinsky
Painting: Anthony Cudahy
Block Print: Ann Dewald
(Image credit: Pablo Enriquez)
GUEST BEDROOM
Platform Bed: Michael Yarinsky
Dresser: Found and Restored
Ladder: Found and Restored
Laundry Basket: Steele Canvas
Block Print: Estelle Yarinsky
Watercolor: Amanda Wachob
Rubber Stamps: Thorsten van Elten
Wall Sculpture: Erwin Hauer
(Image credit: Pablo Enriquez)
BACKYARD
Corten Stell Firepit and Raised Plant Bed: Michael Yarinsky
Glass Tables: Michael Yarinsky
Folding Chairs: Found and Restored
(Image credit: Pablo Enriquez)
WORKSHOP/ STUDY
Concrete Desk Set: Magnus Pettersen
Trivet: Pat Kim
Concrete Vessel: In.sek Design
Porcelain Planter: Farrah Sit
Robot: David Weeks
Hand Broom: Hancock, Massachusetts Shaker Community
Drawing: Anastasia Ginger
Drawing: Estelle Kessler Yarinsky
Chair: Harry Bertoia
Baskets: Steele Canvas
Sewing Machine: Juki
Photography: Pablo Enriquez
Follow Apartment Therapy's Host House Tours board on Pinterest.
Updated daily with fresh tours full of photos for you to pin & enjoy!
Thanks, Michael!