4 Questions We Have Now That Mindhunter is Getting a Second Season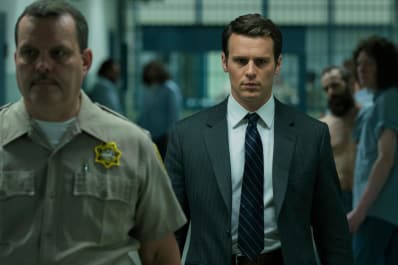 (Image credit: Netflix)
True crime fans will be glad to hear that Mindhunter, the 10-episode drama from David Fincher that held everyone's attention on Netflix this fall, has been renewed for a second season. Even though it wasn't my favorite thing in 2017, literally everyone else I talked to about it was obsessed with Mindhunter. And even though the ending scene stressed me out way too much, I can see how the entire first season built a pretty clear path to season two. Here are some questions and predictions I have for a sophomore season of the show (spoilers below):
Will the BTK killer be in it?
Almost certainly, since they worked so hard to set up that character and then did nothing with him. Throughout season one, we saw opening scene after opening scene showing some mustached dude in Kansas doing boring stuff that had nothing to do with the rest of the episode. I am not up on my serial killer lore, so I had to text my true crime expert friend Gina to ask who he was. Surprise! He's Dennis Rader, aka the BTK killer, who is terrifying even by serial killer standards. He was active in the 1970s when Mindhunter takes place, but he didn't get caught until 2004 after spending decades writing taunting letters to local law enforcement.
What about Ed Kemper, is he coming back?
Holy crap, I hope not. One of those most upsetting parts about Mindhunter for me was how much this serial killer, played by Cameron Britton, looked like John Hodgman.
Will Holden become what he hates most?
Over the course of 10 episodes, Holden Ford (Jonathan Groff), America's favorite baby-faced FBI agent, sure took a dark turn from where he started in the pilot. Maybe that's an occupational hazard when it's your job to buddy up to murderers, but I'm curious about where season two will take him. I know a lot of bad things happened to him in the last couple episodes but I'm still glad his cool girlfriend dumped him, don't @ me.
What was up with the tuna cans in the basement?
One of my biggest beefs with Mindhunter is how little they gave Wendy (Anna Torv) to do. They gave her an inner life as a secret lesbian in Boston, but the second she moved south to work full-time for the FBI, it's strictly basement cats and tuna for her. What was the point of the multi-episode arc of her going downstairs to leave a can of food for a cat a few times? Hopefully Torv gets a bigger role in season two.
Did you watch Mindhunter? Tell us your predictions in the comments...