Mini Christmas Trees Are Making a Comeback This Year
We independently select these products—if you buy from one of our links, we may earn a commission. All prices were accurate at the time of publishing.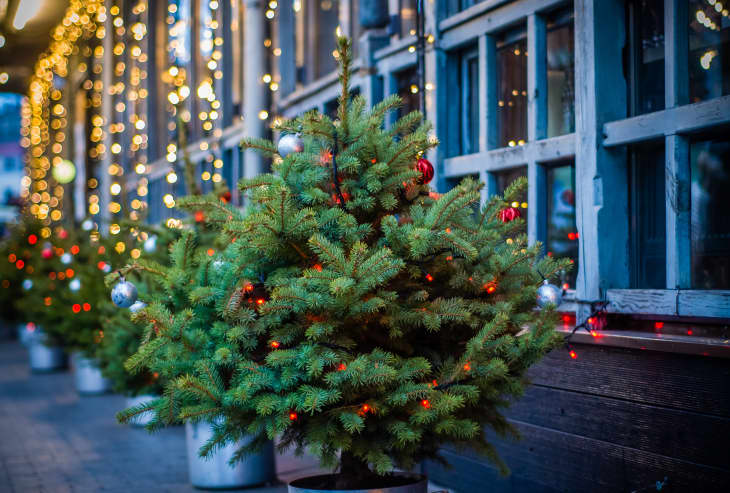 Classic Christmas trees—living, cut, and as tall or taller than a human adult—have special appeal. Not only do they smell great, but they also have unbeatable powers of nostalgia: A large, lit-up tree can take us back to childhood for a moment. But as much as we love them, tall Christmas trees aren't always practical or environmentally friendly. That's probably why many people are turning to alternatives, like mini Christmas trees.
Follow Topics for more like this
Follow for more stories like this
Southern Living points out that searches on Pinterest for small Christmas trees are up 50% from last year. Based on other search terms trending upward on Pinterest—sunflower Christmas tree (up 66%), Boho Christmas tree (65%), and zero waste party decorations (81%)—we're guessing that two main motivating factors of the small Christmas tree trend are environmental sustainability and just a desire to break from tradition. Plus, many of us live in small spaces and don't need a Christmas tree the size of an extra roommate.
Small trees have several advantages over larger trees. You won't have to pick up as many pine needles. One person can set up a mini tree without the help of uncooperative family members. Decorations will be way cheaper. And if you can choose a potted tree, you can continue tending it like any other houseplant after Christmas, rather than dumping it unceremoniously on the curb. Maybe it can even be your Christmas tree again next year.
If you love the natural look and smell of the traditional Christmas tree but have very little space, you can make a tabletop tree using a real pine branch. If you go the artificial route, there are tons of different mini trees to choose from, including vintage, pre-lit ceramic Christmas trees, and this Christmas tree on an extra-long trunk for households with curious cats. No, artificial trees don't smell the same, but that's what candles are for.
You can find more small or alternative Christmas tree ideas below: