There Is a Super-Tiny Little Free Library in Portland, and It's So Cute
We
independently
select these products—if you buy from one of our links, we may earn a commission. All prices were accurate at the time of publishing.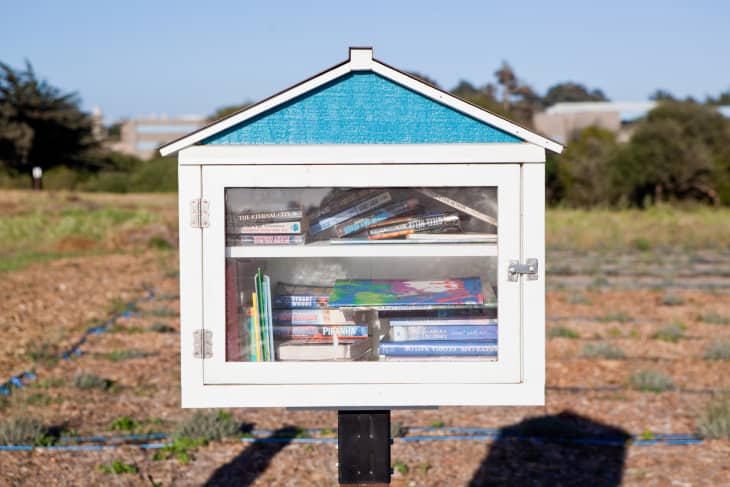 One Little Free Library enthusiast created the cutest take on the book-lover's happy place by crafting his very own "Exceptionally Little Free Library." The teeny, tiny box houses handmade works curated by @littlelibraryguy so "that the local leprechauns, as citizens largely underserved by current libraries, have access to tiny, tiny books." And yes, it's sure to spark "sidewalk joy" for anyone who happens to spot it.
Located in Portland's Mills End Park, he gave a behind-the-scenes glimpse into the process of creating the petite Little Free Library replica, writing a bit about it in the caption of his Instagram post. "So, as the little library guy, I've pondered how to really step up my little library game. Today, I'm proud to announce the grand opening of the Exceptionally Little Free Library," he shared.
The blue and white box opens just the way a human-sized Little Free Library would, and he even printed tiny versions of beloved classics like The Picture of Dorian Gray by Oscar Wilde, The Great Gatsby by F. Scott Fitzgerald, A Wrinkle in Time by Madeleine L'Engle, and many more, placing them into the box using tweezers. 
So many commenters loved the adorable idea, with one person asking, "Are these abridged editions or is the text just really tiny?" His response: "Uh, they're very, very abridged."
Portland bookworms are in for a true treat, because there's another extra-small Little Free Library in the city, and it's housed within a normal-sized version with actual books for the taking. After debuting his "exceptionally little" version, he discovered the "Teeny Tiny Little Free Library," which was created by @pdxdiorama and can be found on the corner of SE 78th and Morrison.
If you're in the area, drop by and check them both out; perhaps pick up a book or two for yourself and any leprechauns or other tiny creatures you might be friendly with.