This Super-Popular Nonstick Pan with a 2,000-Person Waitlist Is Available Right Now
We
independently
select these products—if you buy from one of our links, we may earn a commission. All prices were accurate at the time of publishing.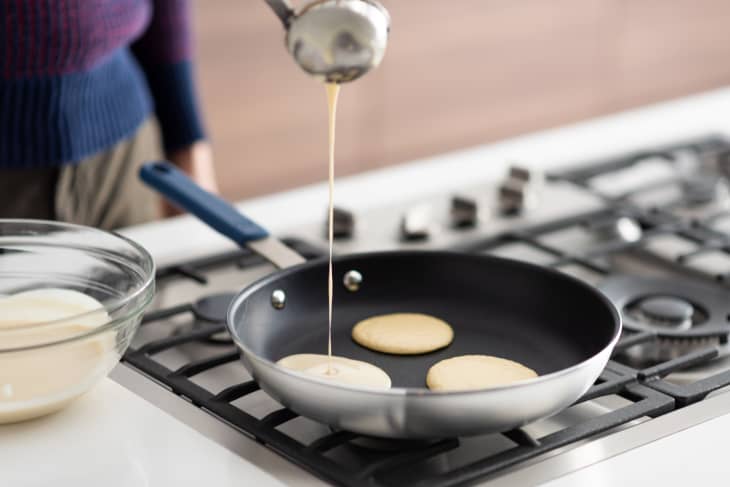 Besides being the go-to weapon in old cartoons, frying pans are a staple of any kitchen. A good frying pan is durable, easy to clean, maneuverable, and reasonably priced, but it can be tricky to find one that meets all of those criteria. With a 4.9-star rating from nearly 5,000 reviewers, Misen's popular nonstick frying pans are some of Kitchn's favorites. The nonstick pan — which comes in three sizes — is the brand's most sought-after product. It made Kitchn's Best List (we love the ergonomic handle) and had over 2,000 people on the waitlist, but we're excited to announce that it's officially back in stock! This kitchen essential is here just in time for the gift giving season, or to purchase as a special treat to yourself to make your holiday cooking a breeze.
Misen is a direct-to-consumer brand that, as Kitchn's lifestyle director, Lisa, says, "puts LOTS of thought into the design and materials of each piece, considering every last millimeter of a handle and taking months to come pick a stainless steel." The Misen Nonstick System combines the highest quality nonstick surface with a titanium-infused plasma primer to ensure that all of your food leaves the pan intact. The pans are dishwasher safe, oven safe, and induction compatible, and the PFOA-free coating ensures that your food is safe to eat.
So, why do you need a nonstick pan, exactly? As our tools editor, Riddley, puts it, "A nonstick pan can be much more, um, nonstick-y than a well-seasoned cast iron or carbon steel skillet." Basically, if you're making anything that needs to come out of the pan cleanly — like omelets, pancakes, or pan-seared salmon, for example — then a good nonstick skillet is your best friend, and Misen's are especially great. As one happy Misen customer reports, "Most pans will require scrubbing, but Misen all came out without any residue at all." Another agrees, saying, "Eggs just slide off the pan and onto your plate."
The Misen nonstick frying pan comes in 8-inch ($45), 10-inch ($55), and 12-inch ($65) versions, or you might want to consider buying a set. Take it from another satisfied customer, who reports, "I originally purchased the 12" nonstick and love love love it. Went back and purchased the 10". I'm a very happy camper!" These pans are sure to fly off the shelves soon, so head over to Misen ASAP and you can be a happy camper, too.