This Brand Behind Some Editor-Favorite Knives Is Having a Sale — but for a Very Limited Time
We
independently
select these products—if you buy from one of our links, we may earn a commission. All prices were accurate at the time of publishing.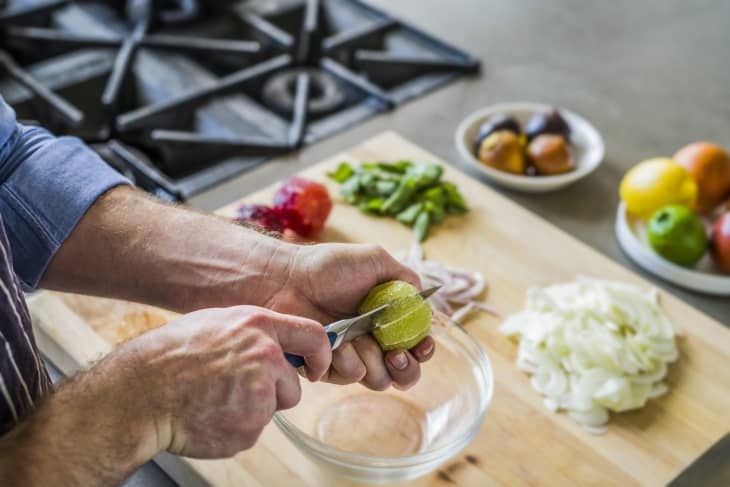 Whether you love a versatile chef's knife or a utility knife for food prep, there's always that one blade we tend to gravitate toward in the kitchen. And while each knife in the block serves a purpose (which the Kitchn team has broken down knife by knife!), some of us home cooks like to use just one or two over and over again. If that sounds like you, then listen up, because one of Kitchn's favorite small brands, Misen, is hosting a Singles Day sale on their bestselling knives!
In honor of Singles Day, Misen is offering $11 off single knives today until 11:11pm EST tonight with the code GOSOLO (excluding the Misen paring knife). If you haven't had the pleasure of using a Misen knife yet, you can buy confidently knowing that you'll receive high-quality stainless steel blades and handles designed with comfort in mind.
One of the best ways to take advantage of this sale is to invest in the Misen Chef's Knife. Kitchn ranked it as their favorite mid-priced knife on their list of the best chef's knives because of its comfort and ability to make "agile, clean cuts." And, if you have smaller hands, they even sell the Short Chef's Knife designed for you.
What makes this an amazing chef's knife for home cooks in particular is that Misen specifically designed it to replace entire knife sets. It features a hybrid Japanese- and German-style blade that they say can do nearly all of your kitchen cutting. If you're someone who has never been particularly fussed about which knife from the block you pick, you might want to snag this one while it's on sale. The only blade you might still need is a bread knife — but luckily, their Serrated Knife is also included in Singles Day!
Misen's popular Japanese-inspired Santoku Knife is also a strong all-purpose choice. It's a little shorter and lighter than a chef's knife, making it a solid option for lots of slicing and chopping. Or, you could try the Misen Utility Knife, a medium-sized blade that can handle both large and small cuts.