5 Mistakes People Make When Looking for a Therapist, According to Therapists
We
independently
select these products—if you buy from one of our links, we may earn a commission. All prices were accurate at the time of publishing.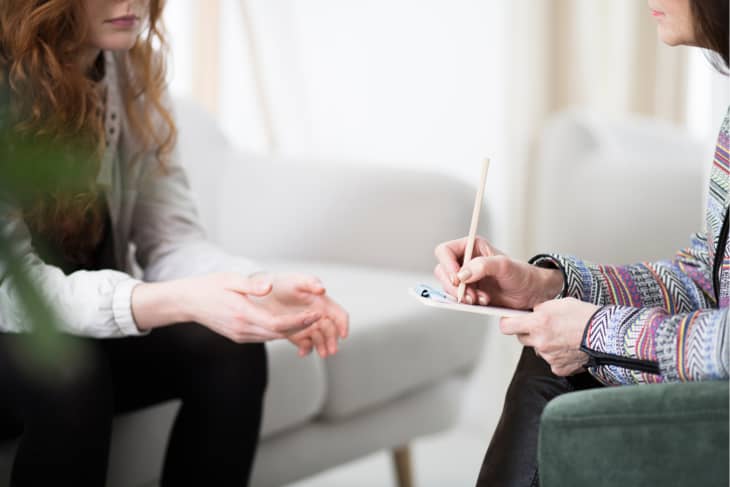 Choosing to go to therapy can be a difficult decision in its own right. But from there, the real tricky part begins: finding the right therapist.
It's important to work with a professional you feel comfortable around and, equally as important, someone who can help you achieve your mental health goals. But the path to choosing a therapist can be a long and bumpy one, so I turned to several mental health experts for their advice.
Here's what they had to say about common mistakes people make when looking for a therapist.
If you think you could benefit from working with a therapist, then that's reason enough to seek one out. Don't make the mistake of waiting until you are facing a mental health crisis, says Elizabeth McCarron, a licensed clinical social worker and the director of outpatient services for Newport Healthcare in Pennsylvania.
"The idea of hitting 'rock bottom' is dangerous and misleading because it rationalizes continuing to not seek help because one doesn't believe they've hit it yet, that they've gotten to their worst point," she says. "If you think you need help, get help."
Waiting too long can also lead to another common mistake: Booking with the very first practitioner you call. If possible, it's best if you can take your time doing research and chatting with various therapists before deciding which one you want to start seeing regularly.
"Waiting until there is a desperate need for a therapist creates a sense of urgency," says McCarron. "Focusing on the first appointment, rather than overall fit, could detour progress in the long run."
Looking for a Friend, Not a Therapist
Don't pick a therapist because you like them as a person. Instead, choose a therapist based on their credentials, expertise, experience with certain issues you may be facing, and overall effectiveness, says Angeleena Francis, a licensed mental health counselor and the executive director of AMFM Healthcare in Washington.
"Choosing a therapist you'd like to be friends with or have many things in common with does not influence their ability to support you in a therapeutic relationship," she says. 
Along those same lines, don't assume that just because your best friend, cousin, or coworker likes their therapist that the provider will also be a good fit for you, says Laura Sgro, a licensed clinical social worker in California. Referrals can be a great starting point, but you should still do lots of your own research and vetting.
"Therapy is an incredibly personal process that looks different for everyone," says Sgro. "Just because someone you know had success with one therapist doesn't mean that person's style, approach, or expertise will align perfectly with what you need."
Staying With a Therapist Who's a Bad Fit
You may need to meet with multiple therapists before you find one who feels like a good fit. To that end, staying with a therapist who doesn't feel right for you is a mistake, says Sgro.
"Finding a therapist can feel a lot like dating," she says. "It can be awkward at first, or exhausting if you feel like you've been looking for a while. But, like dating, it's so much more worth it when you find the person that you do trust and feel comfortable with."
Similarly, don't give up. Even though searching for the right mental health professional can feel overwhelming and draining, focus on your goals and try to persevere. Pat yourself on the back for taking the first step toward getting help. "Committing to caring for your emotional well-being is huge," says McCarron.
Not Understanding the Costs
The cost of therapy varies greatly based on your insurance coverage and your therapist's financial practices. Be sure to do your research ahead of time so you aren't hit with a surprise bill.
"When you first consult or meet with a therapist, make sure that you understand what your financial situation looks like so you can ensure that the therapist makes sense financially for you," says Sgro. "It's the worst feeling to vibe well with someone only to realize that working with them isn't feasible."
If you're on a budget, also look into free consultations. Many independent therapists offer free 15- to 20-minute phone conversations to see if there's a good fit.
"I highly recommend taking advantage of this option," she says. "You deserve to have agency over who you will be sharing these vulnerable parts of yourself with, and it's never fun to go through an entire intake appointment — or two or three — with someone, only to realize by the end that you don't feel comfortable with that person."
Not Being Direct With Your Therapist
Your therapist is there for you. If something doesn't make sense or feels off, be upfront and tell them, says McCarron.
"You won't hurt our feelings," she says. "You can say, 'This isn't working for me,' 'I need you to be more challenging,' or, 'I'd like you to reduce the amount of advice you're giving me and listen more.' A good therapist will be honest with you about their style so that you can come to a nice working relationship."
And don't be afraid to ask questions, says Sgro. Though you may feel nervous or uncomfortable, remember that all questions or requests for clarification are totally valid.
"Asking questions is part of how we all learn, and a major focus of therapy is to learn about yourself," says Sgro. "You likely won't get as much value from the process if you're feeling confused throughout."