The House on 'Mixed-ish' Brings Back the '80s, Complete with Clashing Prints and Lots of Wicker
We independently select these products—if you buy from one of our links, we may earn a commission. All prices were accurate at the time of publishing.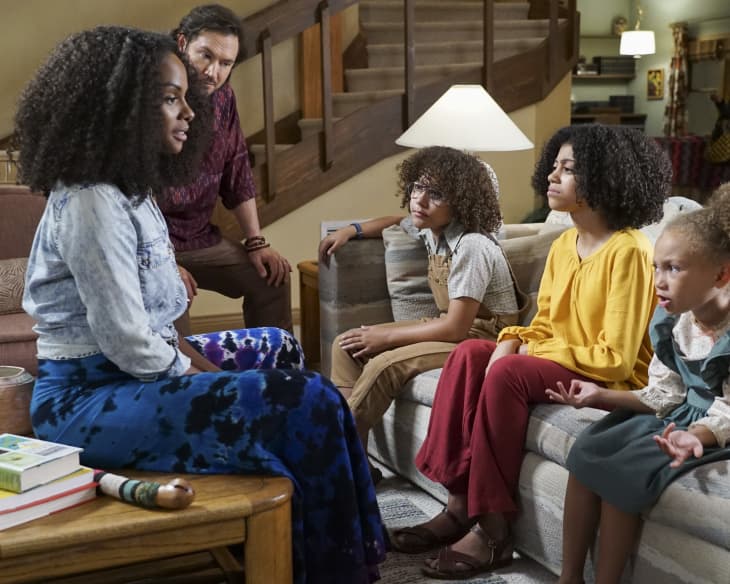 The toilet and light switch may appear ordinary to most folks, but if you've grown up in a commune for most of your life, those household necessities can seem like a novelty. At least that's what happens when Rainbow "Bow" Johnson's little brother, Johan, first discovers these everyday amenities in their new suburban home on ABC's new sitcom, "Mixed-ish," airing Tuesdays at 9 p.m.
The prequel spinoff to Kenya Barris' "Black-ish" and "Grown-ish" follows the early years of Bow, before she became the successful matriarch (portrayed by Tracee Ellis Ross) she's known as on the two latter series. "Mixed-ish" finds a young Bow (played by Arica Himmel, with Ross as narrator) attempting to acclimate to the suburbs with her two younger siblings and their hippie parents after the ATF raids their commune—all the while trying to navigate her identity as a mixed-race kid growing up with a black mother and white father in the '80s.
After fleeing the commune, Bow and her family find a new home in her grandfather's rental house, which production designer Greg Grande conceptualized for the small screen.
"For me it was about making this particular set—the house—have its own kind of character. I say that meaning we all remember what the 1980s kind of felt like. What I tried to do is set out to give ourselves an opportunity to be as precise as possible in a house that maybe had a little architecture from the late '70s into the early '80s," Grande tells Apartment Therapy. Some of those specific design elements include a lava rock fireplace, oak-trimmed kitchen cabinets, and a color palette that felt specific to that decade.
Grande first looked toward the earth tones to establish the interior's color scheme before incorporating more blue-gray shades and brighter yellows so that the hues would "pop against [the actors'] skin tones," Grande explains. "I had to be careful using too much wood paneling because we didn't want them to disappear under the walls." Pink and gray tiles in the bathroom, as well as the soft pink and off-white drapery, rounded out the retro space.
For the kitchen, the cabinets were custom built based on Grande's own memory of that period and the mustard yellow tiles were handpicked in collaboration with two executive producers, adds Grande. The appliances, which Grande believes were hangovers from the '70s, were sourced from Craigslist and then repainted. Grande wanted the area to "feel like an open floor plan for ease of shooting and flow." He also added a pitched ceiling and architectural beams to emphasize the open layout. 
Since the property belongs to Bow's grandfather, who Bow describes in the first episode as "an ambulance-chasing multi-millionaire owner of a personal injury law firm," the house doesn't quite reflect Bow's hippie family. "We had a bit of discussion about what is in this house, so when they first got there it was pretty bare," says Grande. The goal was to create this "feeling like dad bought this house, rented it out for them in a furnished manner, so when they moved in there, it had that specific 1985 period feeling to it." It's not until they live there for a while that they start to layer the space with a more bohemian vibe.
Indeed the place is decorated with designs and furniture that reflect the decade, from chevron prints to wicker chairs. "When you think about the 1980s, there's always wicker, that natural color wicker," reflects Grande, who, along with set decorator Chris Marsteller, notes that they "didn't want it to feel too Miami Beach in the '80s." 
The dining chairs are another highlight. Sourced from Modernica in downtown Los Angeles, the seats feature an upholstery with chevron patterns in earth-tone colors. "That was something that was fun, and we were like 'we have to have those,'" insists Grande. Other furniture pieces were found on 1stdibs, Chairish, Etsy and eBay, while the home's various wallpapers, like the vintage floral one in the dining room area, were found at Astek Wallcovering.
Already feeling out of place in her new environment, Bow doesn't necessarily find much comfort in her shared bedroom with little sister Santamonica either. Outfitted with pastel colors, unicorn bed sheets and a pink-and-white chevron patterned wallpaper, the room felt a bit too cutesy for Bow's bohemian style—and that was the point. Since this residence is owned by Bow's grandfather, Grande approached the room as if gramps had been in charge of decorating. "It would feel like what he wanted it to be," explains Grande, who also points out that Jonah's bedroom is dressed up with a sports theme, even though he's not really a sports guy, "but his room had been outfitted that way from granddad so to speak."
Because it's the '80s, there is no shortage of patterns and prints in the Johnson residence. "The intention was to have it be a bit of a clash," reveals Grande. "We remember in the '80s that the plaid worked with florals; some of the golden tones worked with the greens; mustards worked with burnt oranges. It sold the time period. In one sense, the more you contradict patterns, the better."