Modern and Made in the USA: 10 Sources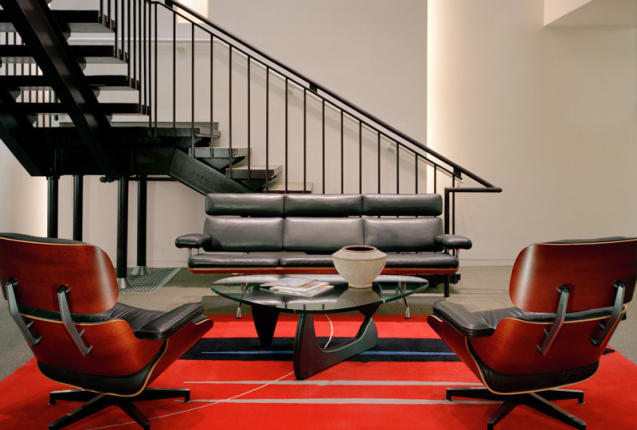 As American-made furniture gets more press coverage, some reports are showing an increase in demand. While American craftsmanship has long been associated with traditional styles (like Shaker and Colonial) we also have a history of modern design and production.

Here are 10 sources to check for mod and contemporary home furnishings. It's important to note that not every company on this list produces 100 percent American-made products, but all of them maintain core production facilities in the US or partner primarily with US manufacturers. If you're concerned, ask the store for more information about how a particular product was made.
Room & Board
90 percent of their products are manufactured in the US, and they list their production partners on their website. This particular sofa is made by North Carolina manufacturers McCreary Modern.
• Shown: Jasper Sofa, $1,400
Heath Ceramics
Heath Ceramics has a 5,000 square foot showroom in Los Angeles, where they sell their clay-fired ceramic tableware, which is made not too far away in their Sausalito Factory.
• Shown: Coupe Line, various prices
Mitchell Gold + Bob Williams
Their furniture is made at a 400,000 square foot factory and warehouse in Taylorsville, North Carolina, where they employ over 700 workers.
• Shown: Kennedy Collection, available through retail partners
Schoolhouse Electric
This lighting company does design, metal finishing, assembly, and plating in Portland, Oregon. Glass-blowing and painting happens in Virginia, while part creation is based in LA.
• Shown: Luna Rod Clear, $109
American Leather
Although their leather is internationally sourced, their upholstery and furniture is crafted and assembled by workers in their factory just outside of Dallas, Texas.
• Shown: Sandy Sofa, available through retail partners
Bolier and Company
Not everything this to-the-trade company sells is American-made (they partner with Decca Furniture in Hong Kong) but their upholstery is made by craftspeople at their main facility in High Point, NC.
• Shown: Domicile Sofa with Bolsters, available to the trade
Cisco Home
This California company makes their furniture in South Central, Los Angeles, where owner Cisco Pinedo grew up. The company is FSC certified, and hardwoods come from sustainable legal sources.
• Shown: Katso Stool, price on request
Lee Industries
Lee's furniture manufacturing facilities are based in Newton, North Carolina. NaturalLEE brand sofas use FSC-certified wood for frames, recycled filling for cushions, and organic upholstery fabrics.
• Shown: Wedge Sofa, available through retail partners
Herman Miller
Their world headquarters are located in Zeeland, Michigan — where the core facilities remain — but they've also opened factories to supply international clients in China, Italy, and the UK.
• Shown: Eames Lounge Chair and Ottoman, around $3,600
Knoll
Knoll owns and operates four factories in North America: East Greenville, Pennsylvania; Grand Rapids and Muskegon, Michigan; and Toronto, Ontario. They also manufacture some pieces in Italy.
• Shown: Florence Knoll Bench, $2,000 and up