Modern Greenhouse Kitchen: Get the Look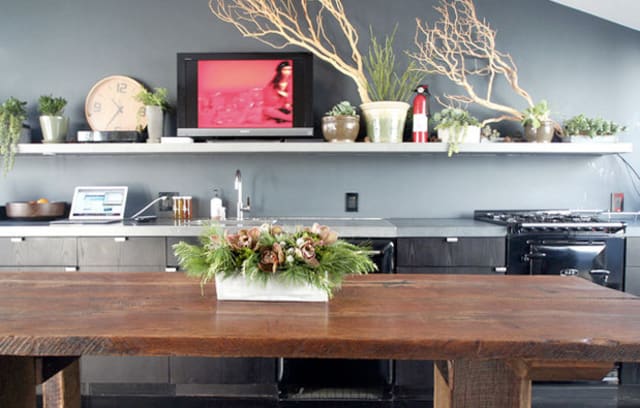 This rooftop kitchen has greenhouse-style windows that flood the space with light, but it's the stripped-down, natural aesthetic that we're interested in. While some of the elements of this kitchen are definitely on the higher end, others are obtainable for less than you'd think.
Architecture and Design
Steven Harris Architects
New York-based Steven Harris Architects created the kitchen within a posh penthouse space on Bond Street in the East Village. Glass doors open onto a rooftop room, where guests can enjoy a meal in the summer.
Cabinets, Appliances, Counters, & Finishes
IKEA
IKEA's Nexus line offers a look that mimics dark, wenge-style cabinetry for less. A Nexus cabinet door with a brown/black finish starts at just $45, while simple, modern hardware can be found for as little as $10 a drawer pull.
Aga Appliances
This kitchen contains a black Companion Range and an undercounter refrigerator from Aga Appliances. Aga's products are made from cast iron coated with a glossy enamel finish. Prices for a stove are steep, ranging between $5,000 and $10,000.
Fireslate
Fireslate is a heat-resistant surface that looks a lot like the lab countertops found in a chemistry classroom. Made of Portland cement, silica, and other fillers, it's a substance that's much more lightweight than natural stone and has a dark, solid color.
Benjamin Moore
The blue-gray walls are a rich hue that changes color depending on the light. For a similar effect, try Benjamin Moores's Knoxville Gray, a color that shifts from true gray to greenish and bluish tones over the course of the day.
Furniture and Accessories
West Elm
Wooden tech is trendy, and West Elm has jumped on the bandwagon with their inexpensive and handsome Wood Wall Clock for $49. Made with a curved plywood frame, it's got a seventies-style retro appeal.
Old Barn Reclaimed Wood Co
For a rustic farm table similar to the one shown above, try this Richmond, Virginia company. They have an online catalog of dining room furniture that includes this Antique Pine Farmhouse Table, $1,395 for a 96-inch version.
American Barn Company
If you're located in the Midwest, the American Barn Company is another resource for reclaimed wood furniture. They use barnwood salvaged from demolitions to make custom-order furniture, like this Pine Bench.
Planters and Branches
Pottery Manufacturing & Distribution
Located in Gardena, California, this is a good resource for nearly any type of glazed ceramic pot, including ones from the US, Vietnam, China, and Italy. You can order over the phone, and they ship nationally. Shown: #18 Cappuccino Glaze.
SaveOnCrafts
For branches like the ones used in this kitchen, try online store SaveOnCrafts. They carry willow, birch, driftwood, grapewood, and manzanita branches, shown here for $19. They also have moss, stones, and other potting supplies.
West Elm
Shane Powers, formerly the Garden Editor at Blueprint Magazine, recently debuted a line of indoor garden containers and supplies, including vases and water garden vessels. Shown: Shane Powers Neolithic Vases, $14 - $79.
To see the full tour of this Bond Street rooftop kitchen, click here.

Photo: Jill Slater