Modern Thanksgiving Table: Get the Look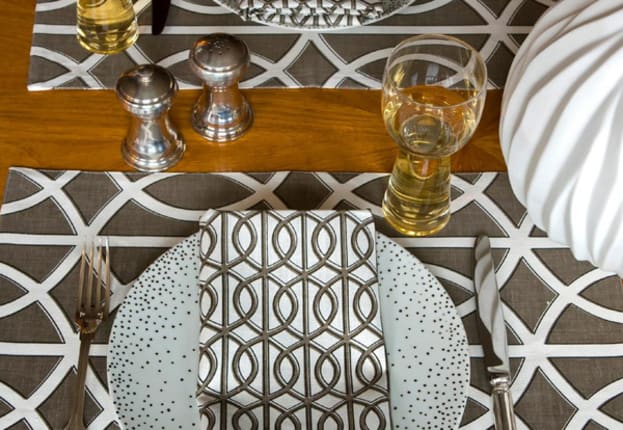 If you're still shopping for Thanksgiving table setting ideas, or you're on the hunt for pieces that will last through the winter entertaining season, here you go. Our guide to modern tabletop includes options for linens, dishes, glassware, flatware, and centerpieces.
Table Linens
For more modern table linens, click here.
DwellStudio
Designer Christiane Lemieux's company is strong on modern table linens (that's their photo shown above), and they have quite a few fall colors in the mix, including golds, browns, and grays. These Gate Sun Placemats are on sale for $77 for 4 (reg. $96).
Unison
Chicago-based Unsion sells tablecloths, napkins, placemats, and runners in modern patterns and rich colors. This Larch Ochre Runner is available through their website for $48, or through dealer stores (check their site for the full list).
Amenity
LA-based Amenity specializes in organic cotton fabrics and non-toxic dyes. Their patterns come in golds, greens, and grays, and any of them would be beautiful on a Thanksgiving table. This Handwoven Table Runner is $99.
Dishes and Place Settings
For more modern tabletop options, click here.
Heath Ceramics
Founded by Edith Heath and now run by husband and wife team Robin Petravic and Catherine Bailey, this mid-century pottery studio is one of the few remaining in America. The Coupe Line is a classic, simple design that comes in solid colors and a matte finish.
Fishs Eddy
American made, double-fired, commercial grade sturdyware is the hallmark of this New York-based store, but their dishes are surprisingly inexpensive. Their Dinner Whites start around $2-$3 per plate.
Rosanna Inc.
Every holiday, Rosanna releases new dishware that's affordable, trendy, and fun. Right now, we're digging the Four Calling Birds line, which is decorated with gold accents ($40 a set). In addition to dishes, they carry glassware and accessories.
Glasses and Stemware
For more glassware sources, click here.
World Market
The Duralex Picardie line is one of our favorites. Made from tempered glass, it's classic, sturdy, stackable, and sells at several big box and small stores. Affordable and accessible, World Market has Duralex sets starting at $10.
Macy's
Always a good resource for tabletop, Macy's carries the major brands of glassware and stemware, including Riedel — often considered the gold standard for wine glasses. The Riedel Vinum Collection is a popular line that starts at $50.
FinnStyle
If you're looking for high quality and distinct shapes, this Minneapolis-based store carries modern glassware by iittala. The iittala Tapio collection, originally designed by Tapio Wirkkala in 1952, starts at $35.
Flatware
For more modern flatware, click here.
CB2
They have several modern stainless steel flatware sets that are a little more affordable than their sister store, Crate & Barrel. This Pattern 333 Flatware is $60 for a 20-piece set. They're also a good place to look for inexpensive dishes and barware.
Alessi
This Italian company is internationally known for high-quality designer dishes and silverware, and it's generally on the higher end of the pricing spectrum. This Knife Fork Spoon by Jasper Morrison for Alessi is 70 for 6-piece set.
Fitzu
This web shop has a huge selection of modern flatware by several major high-end brands, including Alessi and iittala. It's expensive, but their inventory is comprehensive if you're looking for a specific line. This is the Mono Oval 5-piece set, $280.
Vases and Centerpieces
For more centerpiece ideas, click here.
SaveOnCrafts
This website is a great resource for inexpensive centerpiece ideas. They have a huge selection of jars, candles, vases, and branches. These Natural Sanded Grapewood Branches make an instant sculptural centerpiece and sell for $24 each.
Specialty Bottle
One of the simplest and most beautiful ways to decorate a table is to set it with a bunch of tealights in glass jars. You don't need to buy new jars, but if you're looking for a specific style or you want a full matching set, try online catalog Specialty Bottle.
Pottery Barn
They've got quite a few fall centerpieces on sale and their winter catalog is full of silver and gold tabletop for Christmas and Hanukkah. Right now, these White Pumpkin Candles are $17 (marked down from $30).
Photo: DwellStudio