This Popular Molekule Air Purifier Is on Sale Right Now
We
independently
select these products—if you buy from one of our links, we may earn a commission. All prices were accurate at the time of publishing.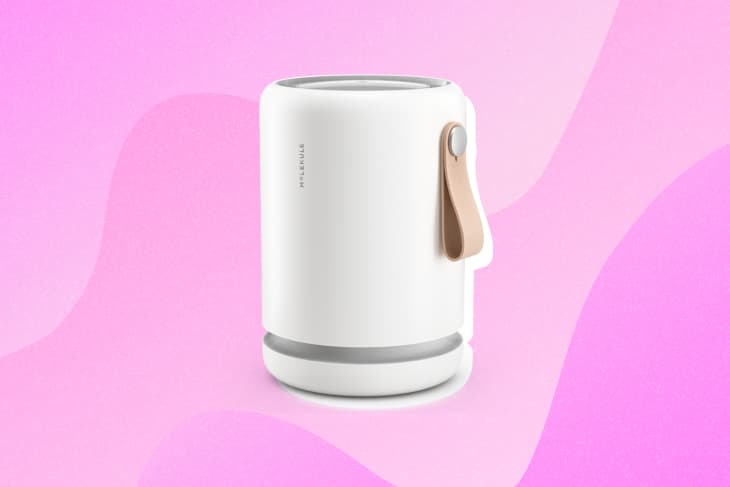 At AT, we regularly research and try out every air purifier we can get our hands on, and when it comes to choosing the perfect purifier for a small space, Molekule's Air Mini is among our favorites. If you're considering adding a little extra fresh air to your home this winter, this is the right time! Because from now until Jan. 24, Molekule is offering $70 off their popular Air Mini+ when you use code REFRESH. Designed for areas up to 250 square feet, the small but mighty Air Mini+ is packed with great features that make it a cut above the rest. Here's a quick rundown of what it can do.
Besides being one of the sleekest air purifiers out there, the Air Mini+ is also one of the most effective. Instead of using traditional HEPA filters, Molekule created their own filtration system, called PECO, or photoelectrochemical oxidation. TLDR: this new filtration system breaks down pollutants, allergens, and even lingering food smells at a molecular level — something a traditional HEPA filter can't achieve. A recent study even showed that Molekule's PECO technology also inactivates flu and coronavirus strains at a rate of 99.99 percent, which is great news for everyone.
The "+" in Molekule's Air Mini+ means it comes with some extra features that make it more efficient and easier to use than the original Air Mini. First off, it has a sensor that detects pollutants and reports in real time, so you can just open Molekule's app to get a quick report on the quality of your indoor air. The Air Mini+ also has an Auto Protect feature, which adjusts its fan speed based on the sensor's air quality diagnosis. The app lets you control fan speed manually and alerts you when it's time to replace the filter.
The reviews of the Air Mini+ are overwhelmingly glowing. From alleviating everyday allergy symptoms to adding an extra level of safety during the pandemic, it's become an essential wellness tool for many. One reviewer even considers it a total game-changer: "I live in San Antonio, Texas, home to Cedar Fever. I have been congested every morning and my sleep quality has suffered. After just a few nights with Molekule, I wake up clear and rested."
Reviewers have also been wowed by its thoughtful design and the fact that it's portable, so it can easily go from space to space throughout the day. It's small enough to put on your desktop during work hours, move to your kitchen while you're cooking, and perch on your bedside table at night. Overall, the Air Mini+ is a smart, practical, and stylish investment for anyone's well-being—and who doesn't want healthier air at home?

Buy: Molekule Air Mini+, $429 with code REFRESH (usually $499)